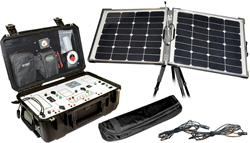 An innovative education kit now on Amazon Business!
Pinellas Park, FL (PRWEB) April 20, 2017
The solar4STEM 200 Solar Electric Energy education kit has been launched on Amazon Business by manufacturer Custom Manufacturing & Engineering™ (CME™) under the solar4® product brand. CME has been developing and designing products for two decades for Government, Industry, and Education/Training Device sectors. The solar4STEM 200 training system is well suited for Grades 3-14 renewable energy instructional and STEM programs. The realistic fully functional solar generation system configuration is portable and is easy to set up and operate by STEM and science teachers. In addition to the solar4STEM 200 being perfect for outdoor labs, classrooms, science day camps, and science centers or museums.
The CME™ solar4STEM® 200 Solar Education Trainer kit (p/n 0015231-001) is a new educational technology for schools, STEM academies, community colleges, or vocational program teachers. Uniquely, it includes all materials and equipment in a portable configuration for lessons inside or outside the classroom. The solar4STEM 200 Teacher's Instruction Guide provides solar energy information and system user instruction as well as numerous experiments to aid in preparing and conducting class experiments in electrical power, solar derived power, geography, seasonal solar location, etc. Dr. Nancy Crews, CME's President stated that "after successfully introducing solar4STEM at the recent Future Educational Technology Conference (FETC) 2017 in late February and some direct sales to schools in Florida and Alabama, we are extremely pleased with this new STEM product placement on Amazon Business."
Unlike other STEM products, solar4STEM is crosscutting and enhances student learning goals across physical science, mathematics, engineering, electricity, renewable/sustainable energy, etc. Easy to implement in your school, solar4STEM is a turnkey training apparatus and includes the solar panel, tripod, battery (energy storage), instructional control panel, charge controller for charging and managing the battery, AC inverter, and battery charger. Key accessories include a digital multimeter, IR thermometer, light meter, compass, and dial gauge angle finder for conducting measurements.