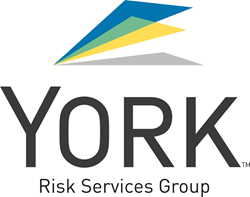 Parsippany, NJ (PRWEB) April 19, 2017
York Risk Services Group (York), a premier provider of claims management, managed care, specialized loss adjusting, alternative risk programs, pool administration and other insurance services, today announced that Patrick Walsh has assumed the role of Executive Vice President and Chief Claims Officer for York Risk Services Group. In this role, he will lead all of York's national claims operations in addition to leading York's Risk Management Practices Group.
Patrick comes to this position with decades of experience leading claims organizations, with a focus on proving a great experience for both colleagues and customers.
"Patrick is not only a respected leader, he is a claims person through and through," said Rick Taketa, President and Chief Executive Officer of York. "Patrick is an innovator with a vision for how our claims organization will deliver on commitments to our clients. He understands the importance of positive collaboration and the social mission we bring to customers and society as a whole, as we help people and organizations get back to health and productivity." Taketa added.
"I'm very excited to be taking on this responsibility," said Walsh. "York is unique in the market, with a broad service and product set focused on delivering solutions customized for our clients. We have the tools that enable us to provide the highest level of service and make sure we are capable of constantly helping people and businesses."
Patrick holds a BA in Organizational Communications from the University of Akron in Ohio, and serves on the Advisory Board for the National Workers' Compensation and Disability Conference. He is also Chairman of the Board of the Wisconsin Chapter of the Make-A-Wish Foundation.
###
About York Risk Services Group
York Risk Services Group Inc. is a premier provider of diversified insurance and risk management solutions, including claims management, managed care, specialized loss adjusting, pool administration, and loss control nationwide. York provides risk management and managed care solutions to a variety of strategic partners, including insurance carriers, self-insureds, brokers, wholesalers, MGAs, programs, risk pools and public entities. The third largest TPA in the U.S., York delivers customized claims solutions for all lines of business, including property, liability, products liability, ocean and inland marine, environmental, transportation and logistics, construction and workers' compensation. Based in Parsippany, New Jersey, York has over 80 offices in the US and a strong international presence. Visit us on the web at http://www.yorkrsg.com.
For more information contact:
Anne W. Ellis, CPCU
Vice President
Marketing and Communications
York Risk Services Group, Inc.
973-404-1282
Anne.ellis(at)yorkrsg.com