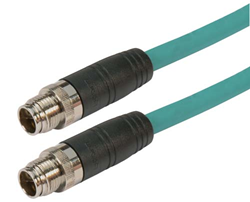 "Our new premium X-coded M12 cable assemblies...are designed to exceed category standards to ensure high performance network throughput even in harsh weather and industrial environments," said Dustin Guttadauro, Product Manager
NORTH ANDOVER, Mass. (PRWEB) April 25, 2017
L-com Global Connectivity, a preferred manufacturer of wired and wireless connectivity products, announced today that it has launched a new line of premium X-coded M12 cable assemblies that support Category 6a applications and are rated for 10Gbps speeds. They are designed for use with industrial control and factory automation, machine vision, sensors and actuators, test equipment, I/O connectivity, harsh environment applications and industrial Ethernet networks.
L-com's new premium X-coded M12 cable assemblies are available in 3 connector configurations: male to male, male to RJ45 male, or male to GigE RJ45. The M12 connectors are IP68-rated when properly mated to protect against liquids and particulates. The GigE RJ45 connectors are built to machine vision standards and are ideal for machine vision camera and PoE applications. Screw mount hardware for the GigE RJ45 connectors is beneficial in many applications where standard RJ45 connectors can become dislodged due to jostling, vibration, gravity etc.
These cables feature a robust design that is ideal for outdoor and industrial installations. They are built with high-flex, outdoor, CMX-rated, double-shielded, FR-TPE cable. The cable jacket is resistant to oil, UV sunlight, weld splatter and the cable is rated for 300V.
"Our new premium X-coded M12 cable assemblies are here to support your toughest and most demanding applications. They are designed to exceed category standards to ensure high performance network throughput even in harsh weather and industrial environments," said Dustin Guttadauro, Product Manager.
These X-coded M12 cable assemblies feature a double-shielded braid and foil design for maximum EMI/RFI protection. The cable is flex-tested to 1 million cycles at 10x cable OD and 10 million cycles at 20x cable OD and these assemblies are available off-the-shelf in lengths of 1, 2, 3, 5 and 10 meters. Custom lengths are also available upon request.
For more information about this release, please contact:
Peter McNeil
L-com Global Connectivity
17792 Fitch
Irvine, CA
978-682-6936 x1174
About L-com Global Connectivity:
L-com Global Connectivity, a leading manufacturer of wired and wireless connectivity products, offers a wide range of solutions and unrivaled customer service for the electronics and data communications industries. The company's product portfolio includes cable assemblies, connectors, adapters, antennas, enclosures, surge protectors and more. L-com is headquartered in North Andover, Mass., is ISO 9001: 2008 certified and many of its products are UL® recognized. L-com is an Infinite Electronics company.