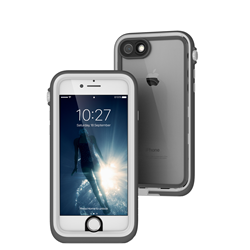 Richmond, Canada (PRWEB) April 21, 2017
Catalyst, the award-winning manufacturer of the world's most protective and stylish waterproof cases and accessories for electronic devices, is now available at London Drugs locations in Canada. The partnership makes the Catalyst cases for iPhone 7, 7 Plus and Apple Watch available at all 79 retail locations nationwide, including Vancouver, Calgary, Edmonton and Richmond.
The partnership with London Drugs is the first in-store affiliation for Catalyst in Canada. Catalyst is now available in more than 70 countries world-wide and expanding rapidly.
"We are extremely excited to broaden our reach in Canada. We have been getting numerous requests for retail availability of our product in Canada for some time now. For Catalyst, it's about creating the right partnerships and alliances that reflect the quality of our products," said June Lai, Catalyst CEO. "Growing up in Vancouver, I know the reputation for quality and service that London Drugs has developed with their customers. I'm happy to be able to make our products available directly to Canadian consumers through their stores, and provide people direct access to products that allow them to go into any environment and pursue their adventures without worry."
"We are very impressed with the line of Catalyst products and are excited to make these premium waterproof cases available to our customers. Canadians are known for their resilience to the elements and Catalyst cases provide a solution to add the same resilience to the iPhones and Apple Watch." said Chris Gibson, London Drugs. "These products are high quality and perfect not only for those who enjoy the mountains, snow, or waterways but also for everyday use."
Every Catalyst case for Apple Watch Series 2 is tested waterproof to 100m – which significantly enhances the waterproof rating of the naked device. For drier adventures, the cases also protect against dust, dirt, sand and impacts of up to 2m while preserving full functionality of the device.
The line of Catalyst cases for iPhone 7 and 7 Plus are tested waterproof to 10m – which doubles the rating of previous Catalyst cases. The ultra-slim profile and clear front and back housing sections compliment and showcase Apple's iconic design beautifully without sacrificing the industry leading protection Catalyst is known for.
Connect with Catalyst Facebook https://www.facebook.com/CatalystCase
Twitter https://twitter.com/CatalystCase
Instagram https://www.instagram.com/catalystcase_/
Website: http://www.catalystcase.com
About Catalyst
Catalyst is a lifestyle accessories brand founded to create iconic products that enable people to explore and share their world. Catalyst offers the highest performance accessories that are the best value for their customers.
Josh Wright is an award‐winning industrial designer who graduated from the Art Center College of Design and June Lai is the research, development and business partner at Catalyst. Together, after seeing a need for a product that fit their needs but did not yet exist, they designed and developed an iPhone case that would protect their products through their many outdoor and underwater adventures.
Since Catalyst's inception in 2010 the brand has introduced their highest-performance line of everyday cases, accessories and sleeves featuring their own proprietary technology.
About London Drugs
Founded in 1945, B.C.-based London Drugs has 79 stores in more than 35 major markets throughout British Columbia, Alberta, Saskatchewan and Manitoba including its online store http://www.londondrugs.com London Drugs offers consumers a range of products from digital cameras and cosmetics to computers and televisions. Renowned for its creative approach to retailing, the company employs more than 7,500 people with pharmacy and healthcare services being the heart of its business. Committed to innovation and superior customer service, London Drugs has established itself as a reputable and caring company and continues to position itself for future growth and development. For more information, visit http://www.LondonDrugs.com.
iPhone, iPad and Apple Watch are registered trademarks of Apple, Inc.