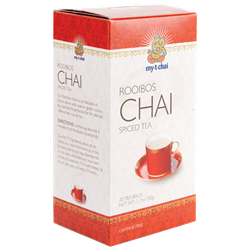 Boca Raton, Florida (PRWEB) April 24, 2017
My T Chai, a South African company known for its premium natural chai teas, announced the teas are now available for purchase on StackedNutrition.com, a popular website for people interested in healthy products.
Chai tea has been a staple of Asian and African countries for thousands of years, and was initially made and popularized in ancient Siam and India. Today's recipes have some small variances from region to region, but in general, chai teas maintain an unmistakable taste profile. My T Chai's teas are all made with local South African ingredients, and they are now available more widely than ever thanks to this newest partnership with StackedNutrition.com.
"We are excited to announce our teas are now available for sale at StackedNutrition.com," said Michael Chaimowitz, owner of My T Chai. "We have put a lot of effort into making these teas in a natural way that showcases some of the unique flavors of South Africa. The partnership with StackedNutrition.com is ideal for us, as it allows us to reach out to new customers who already have demonstrated they care deeply about natural products."
My T Chai has a number of different varieties of chai tea that it creates. One of its most popular products is its Honeybush Chai, which features My T Chai's signature blend of spices with a particularly spicy flavor. The company recommends users try it with a bit of honey to truly bring out its natural flavor profile.
All our naturally caffeine free rooibos Chai features only real spices such as cinnamon bark, cardamom seed, ginger root, chicory clove bud and black pepper seed. No artificial flavors or colors added.. Thus My T Chai recommends leaving the teabag in the cup or pot for as long as possible to get the most spice and flavor out of the drink. A full cream milk can also add to the already wonderful taste.
"We are eager to bring our teas to a brand new audience of people and to continue to build our brand's momentum in the United States," said Chaimowitz.
For more information about My T Chai, visit http://www.mytchai.com.