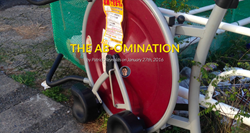 Why settle a product from a late night infomercial when you can have a full revolution.
Berkeley, California (PRWEB) April 19, 2017
Late night television commercials are full of exercise gadgets that promote six pack abs and amazing results. It's unfortunate that people that want to get into shape spend their money on these products only to end up throwing them in the trash.
Kenzai outlines the following issues with these products in "The Ab-omination".

These products are stupid
These products lie
These products are wasteful
These products kill the human spirit
The human spark of motivation to be better is precious. It's the thing that keeps people up late working on the pet-projects that become new businesses. It's the drive that leads an out of shape person to say "enough is enough" and start the process of making real change. When nurtured the spark becomes the kindling that leads to the bonfire.
Ab gadgets and other late night infomercial products take the spark and spit on it. They use that innate drive to be a better person and reroute it towards vacuous consumerism. And when these products fail, the take away from the disappointed person is that the spark is an illusion, that it's something that should doused and buried and forgotten.
Check out the Big Ideas section of Kenzai.com to read "The Ab-omination" and other thought leadership on health and fitness in the modern world.
#######
About Kenzai Inc.:
Kenzai is a Berkeley, California based health and fitness company that offers comprehensive online training programs that help people around the world connect and get into great shape. Every Kenzai program focuses on four key areas (exercise, nutrition, education, and community) to get trainees into the best shape of their lives and sustain the results.
Kenzai offers three entry level programs: Kenzai Body, a 90-day program that focuses on fast efficient bodyweight based workouts; Kenzai Run, a 56-day program that helps new and experienced runners learn to train in a more structured way with better nutrition and full body conditioning to improve performance; and Kenzai Silver, a 56-day program for seniors, ages 60 and up, who want to be more active and have more energy to do the things they enjoy in life.
Entry programs start on the first Monday of each month from January through September. Visit the Kenzai website to learn more and inquire about the entry level programs: http://kenzai.com