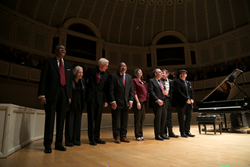 "Oscar's relationship with Bösendorfer was dear to his heart...," said Kelly Peterson. "Hearing these talented artists play Oscar's music in Chicago, a city that is stamped with his imprint, was an extremely moving experience..."
CHICAGO (PRWEB) April 19, 2017
"Oscar, With Love: A Tribute to Oscar Peterson" included an all-star lineup of world-renowned jazz pianists presenting Peterson's original compositions and tunes he dearly loved at Symphony Center's Orchestra Hall in Chicago. The concert, held on April 7 and directed by Jim Fahey of Symphony Center Presents, featured riveting performances on a Bösendorfer 280VC concert grand piano.
Celine Peterson, Oscar Peterson's daughter, served as host for the evening and reminisced about her late father as musician, educator, mentor and parent. The program featured faithful interpretations by Kenny Barron ("Ballad for Benny Carter"), Robi Botos ("Smedley's Attack"), Bill Charlap and Renee Rosnes (a four-hand performance of "Sushi" as well as Rosnes' rendition of "Bossa Beguine"), Benny Green ("Cool Walk," "Hymn to Freedom"), Ramsey Lewis ("If I Love Again," "Laurentide Waltz") and bassist Dave Young, who offered a lyrical solo tribute, "Goodbye Old Friend." A surprise appearance by 88-year-old Chicago pianist/vocalist and one of Peterson's closest friends, Audrey Morris delivered her rendition of "Look What You've Done to Me" which, according to esteemed jazz journalist, Howard Reich was "the evening's most poignant moment."
"The very sight of an ebony Bösendorfer grand sitting alone on that vast stage suggested the considerable potential of the evening, which met high expectations," Reich wrote in The Chicago Tribune. "For the occasion seemed to inspire some greatly skilled pianists to outdo themselves on Peterson's behalf."
That night, Bösendorfer revealed a stunning piece of musical history in Symphony Center's Rotunda: the Bösendorfer Oscar Peterson Signature Edition piano, which pays homage to the late jazz icon, who treasured his own handpicked Bösendorfer Imperial grand piano. It also represents a remarkable technological feat — that of faithfully recreating note-for-note performances that Mr. Peterson had personally recorded in the 1970s on the Pianocorder, that era's most advanced reproducing piano technology. These digital recordings, which captured extremely accurate key and pedal data as Mr. Peterson played, were meticulously rescued and converted to a modern-day format, enjoyed once again thanks to Disklavier technology built into the limited-edition instrument. With just the touch of a button, Chicago concertgoers witnessed its magic for the first time, as the instrument's keys and pedals came alive, moving up and down to recreate Mr. Peterson's original performances, just as he played them 40 years ago. Included in this historical collection are: "Tenderly" (Walter Gross), "Take the A Train" and "Lush Life" (Billy Strayhorn), "Back Home Again in Indiana" (James F. Hanley), "Who Can I Turn To" (Leslie Bricusse and Anthony Newley), "Falling In Love with Love" (Richard Rodgers), "Body and Soul" (Johnny Green), "Blues of the Prairies" (Oscar Peterson), "Honeysuckle Rose" (Fats Waller), "Misty" (Erroll Garner), "A Time for Love" (Johnny Mandel), "Old Folks" (Willard Robison) and "Someone to Watch Over Me" (George Gershwin).
Only 12 Bösendorfer Oscar Peterson Signature Edition pianos are available for sale worldwide.
Each of the pianists who appeared onstage at Orchestra Hall had previously contributed tracks to an historic three-CD package, "Oscar, With Love," released by the late jazz icon's widow, Kelly Peterson, in 2015. She selected Chicago as the first United States city where audiences could hear her late husband's music played live because of the virtuoso's longstanding affection for the city, which Reich says the pianist once dubbed "Piano City."
"Oscar's relationship with Bösendorfer was dear to his heart, and he especially loved his own Bösendorfer Imperial piano," said Kelly Peterson. "Hearing these talented artists play Oscar's music in Chicago, a city that is stamped with his imprint, was an extremely moving experience — for me, as well as those in attendance."
For more information about Bösendorfer pianos, please visit http://4wrd.it/BOSENDORFERTOUR.
-END-
About Bösendorfer
Bösendorfer was founded in 1828 and has been the instrument of choice for many of the world's most famous artists and composers. This limited production, handcrafted instrument remains one of the most sought after instruments for musicians, institutions and piano enthusiasts worldwide.