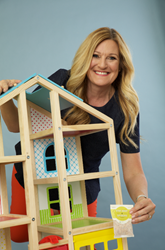 Bismarck, ND (PRWEB) April 20, 2017
EarthKind®, manufacturer of all-natural pest repellant products, is celebrating its 10th anniversary in honor of Earth Day by showing appreciation to all the people and organizations that helped EarthKind® Founder and CEO Kari Warberg Block, turn her passion into a multi-million dollar company.
"When I reflect on all that has happened since EarthKind® was incorporated in 2000, I didn't realize at that time that it would take seven years to get an EPA registration on my first invention. That was when my company and this amazing journey really began," said Kari.
The daughter of an entomologist and wife of a farmer, Kari had a "eureka" moment when she discovered a terrible rodent issue on her farm. There was little on the market that was both safe and effective, and with kids and pets at home, poisons were not an option for Kari. Her research showed that more than 9 out of 10 people purchased poisons to control pests, and she realized that she had an opportunity to fill this gap and disrupt the market. And so, with nothing more than a 99-cent package of garden seeds, Kari began her mission to create a better way to control pests in and around the home by creating a proactive and sustainable approach that would deliver professional quality results at a fraction of the cost. She knew if she did that, people would be willing to change their old habits.
With only a few dollars in her pocket, a couple of product samples and a fierce determination, Kari has succeeded where others have failed. Kari was awarded a small agricultural diversification grant to test the waters with her new invention – a new approach to rodent control. With the assistance of the North Dakota Ag Department she was able to bring new jobs to the state as her business grew, and in 2013 Kari won SBA's "North Dakota Small Business Person of the Year" award, and also won National runner-up.
The first product to be launched, Fresh Cab®, a botanical pouch that keeps mice out of homes, cabins, basements, attics, garages, sheds, storage units and vehicles, received a patent in 2002 and was approved for sale as a "botanical rodent repellent" by the Federal Environmental Protection agency in 2007. The first and only botanical rodent repellent to gain EPA registration, this was a game changer. Big corporations took notice, and two years after it launched, Fresh Cab gained national distribution through Tractor Supply Company, and two years after that it gained national distribution through Ace Hardware.
"EarthKind® was always more than just building a business. I had a purpose – to create a safe option for pest control – and that was, and still remains, my biggest driving force in continuing to build the company," said Kari. "Purpose-led companies are focused on doing work that makes a real difference, so they are committed to becoming the best, rather than the biggest, which in turn attracts more loyal consumers. When 'purpose' becomes a company's compass, it spurs creativity, which in turn drives innovation and growth."
Kari has always believed that networking was key to success. "I never stop learning, from fellow entrepreneurs, business leaders, community leaders, top CEOs and customers. Everyone I meet is an opportunity to further my knowledge and make a connection," said Kari. "You can't disrupt the market by doing the same as everyone else, but you can take something away from every opportunity."
In 2012 Kari was selected as an Ernst & Young "Entrepreneurial Winning Women™," which is a national competition and executive education program that identifies a select group of high-potential women entrepreneurs whose business shows real potential to scale, and helps them do it. The program afforded Kari many opportunities to interact with other successful entrepreneurs and learn from them, as well as share her insights.
"EY's Entrepreneurial Winning Women program identifies, celebrates and propels high-growth entrepreneurs like EarthKind's Kari Warburg Block who have big ideas and bold plans," said Kerrie MacPherson, principal, financial services office, Ernst & Young LLP and North America Entrepreneurial Winning Women executive sponsor at EY. "We congratulate Kari and the EarthKind® team on a decade of growth and innovation. Kari has kept EarthKind's purpose at the forefront—it has been inspiring to watch!"
In December 2014 Kari was appointed to the National Women's Business Council. "She truly embodies the values that founded the Council in 1988. She understands that in order for the country's economic potential to be fully realized, national policy must address the persistent challenges of access to capital and access to markets that women entrepreneurs continue to face," said Carla Harris, chair of the National Women's Business Council. "In addition to running the day-to-day operations of a global business, Kari guides the Council's research portfolio and champions action-oriented policy solutions through engagement with national policy makers and field practitioners all over the country."
The most recent product introduction from EarthKind® in 2014, and its most ambitious, is Stay Away®. Designed for mass-market distribution, Stay Away®, with a patented pouch design, delivers long-lasting slow release of proven oils that biologically repel rodents, spiders, moths or ants from any enclosed space. The following year Stay Away® gained national distribution in Lowe's stores.
"Congratulations to Kari and EarthKind® on their 10-year anniversary," said Jason Miller, Lowe's merchandising director for lawn and garden. "Their efforts have supported our commitment to offer customers sustainable product options, and they've made a positive impact on our business and community."
As her business grew, Kari opened a new EarthKind® manufacturing facility in Mooresville, NC in 2015, and with it, 300+ job openings for local residents.
"We are proud to have the EarthKind® manufacturing facility located in Mooresville. They are an innovative company and great community partner. The Town of Mooresville congratulates them on ten years of success and wishes them another successful decade in our community," said Mayor Miles Atkins.
Ten years after her journey began, Kari turned an idea and project that started at her kitchen table into a multi-million dollar success, and sold over 50 million EarthKind® manufactured pest control products. The company also made a social commitment through its support of American farmers by buying its ingredients from them and by hiring a workforce that includes people with diverse abilities. According to Kari, "We have adapted our factory in support of our employees with disabilities. Their contributions are an asset to our production team."
In true entrepreneurial spirit, Kari is not one to rest on her laurels, always pushing the envelope and herself to bigger and better things. "For the past 10 years we have helped retailers introduce effective alternatives for pest control to their customers," said Kari. "However, there's still more work to do and we have big ideas percolating, so stay tuned to see what's next!"
Media interested in setting up an interview with Kari Warberg Block to learn more about how she built EarthKind® into a multi-million dollar green brand with a purpose, please contact Jillian Chertok at jillian(at)adinnyc(dot)com or 212.693.2150 x311.
About EarthKind®
Founded by leading pest prevention expert Kari Warberg Block, EarthKind is a pioneer in natural prevention for households everywhere. Its line of pet and planet friendly pest prevention products and rodent repellents provide effective, safe and natural ways to get rid of pests and bring inviting smells into your home. All EarthKind® products are made exclusively from plant fibers and oils sourced from American farms, and they're designed by inventive artists, scientists, and engineers who care about the Earth. EarthKind® products are made in the USA and the company provides people with disabilities meaningful employment. Kari was named to the EY Entrepreneurial Winning Woman Class of 2012, 2013 ND SBA Small Business Person of the Year and National Second Runner Up. Her latest product, Stay Away® was the winner of the 2015 NEXTY People's Choice Award for Best New Product of the Year. Learn more at earthkind.com and on social media: