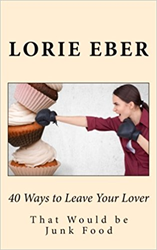 As a certified nutritionist and wellness coach, I've helped dozens of people change their whole mind-set about food, with the result being they lose anywhere from five to 50 pounds--and keep it off.
(PRWEB) April 20, 2017
In the beginning, it's bliss. Your love object provides everything you need at just the moment you need it. You couldn't be happier...until it all starts going terribly wrong. Those ecstatic highs are soon followed by crashing lows. You gain weight. You begin to hate yourself. You know you have to get out of this relationship—but how?
"Be a little bad," advises Lorie Eber. "And add more trips to the bathroom." Unorthodox relationship advice? Not when the love of your life is junk food.
These and 38 other bite-sized, practical, relatable, humor-laced tips come from leading Orange County, CA–based wellness coach and author Lorie Eber in her new book, "40 Ways to Leave Your Lover: That Would be Junk Food" ($9.99 on Amazon).
"In our food-centric society, we turn to food to meet all of our emotional needs," says Eber, a former corporate litigator turned Mayo Clinic certified wellness coach and certified nutritionist. "It's not much of a stretch to call junk food a 'lover.' But this is a lover we want to leave."
The book, written in Eber's signature down-to-earth, tough-love (but good-humored!) style, offers simple, relatable and straightforward ways to get weight off and keep excess pounds at bay without depriving yourself. Better yet, the book can help anyone develop a positive relationship with food while maintaining a healthy weight.
"As a certified nutritionist and wellness coach, I've helped dozens of people change their whole mindset about food, with the result being that they lose anywhere from five to 50 pounds—and keep it off," says Eber. "Now, I'd like to share my secret weapons with readers who are serious about losing weight and living a healthy lifestyle. They will be surprised at how attainable their goals really are."
So what does "Be a little bad" mean? For one thing, it means avoiding anything that smacks of dieting. "Never go into 'diet-mode,'" Eber says. "Imposing a lifetime ban on your go-to junk food favorites will backfire. Give yourself permission to be a little bad now and then." Eber herself subscribes to the everyday-friendly Mediterranean style of eating, which is based on typical foods like fruits, vegetables, fish, and whole grains.
Eber also advises readers and clients to "Buy frozen," referring to the times when you "go to the farmer's market and over-buy with the best intentions. You stock your fridge with healthy food that rots. Be a realist and buy frozen. Then you'll have healthy eating options at your fingertips any day of the week."
And "Add more trips to the bathroom," means "Drink water throughout the day and you'll consume fewer calories and walk to the restroom more."
"40 Ways to Leave Your Lover" serves as a natural companion piece to Eber's first Amazon five-star book on health and weight-loss, "How to Stay Healthy in a World Designed to Make Us Fat and Lazy," also available for $9.99.
Among the Amazon review comments received thus far for the first book are:
"This book provides practical and achievable means for reaching and maintaining a healthy weight and lifestyle in a culture that conspires against us reaching those goals," says one fan. "Lorie's book is engaging, funny and offers real solutions for self-care in an overstressed world."
"Lorie Eber has a great writing style; very fun, fresh, and to-the-point," adds another enthusiast. "She simplifies wellness in this easy to read and digest (no pun intended) book, giving us easy, implementable, and sustainable tricks and knowledge to help keep the reader healthy, motivated, and (relatively) stress free."
A re-careered corporate litigator who decided to pursue her passion for health at the age of 49, Eber is a certified nutritionist, a Mayo Clinic–certified wellness coach, a National Academy of Sports Medicine–certified personal trainer, and a gerontologist. She writes for the Huffington Post, among other publications, and frequently lectures at health and wellness conferences around the country. She is best known for her custom-designed weight-loss programs—without the use of supplements or powders—and her "Tell it like it is" style honed through two decades in the law.
To learn more about Eber and her company, visit her website at LorieEberWellnessCoaching.com.
###