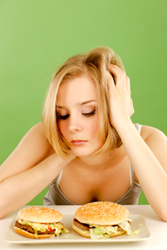 Weight issues always point to a deeper psychological issue that isn't being dealt with.
Montreal, Canada (PRWEB) April 22, 2017
In the early 1900s, women endured the discomfort of corsets in order to achieve an hourglass figure. From the 60s through to the 90s, thinness was in and curves were out. As recent as the last decade, a big behind is considered divine. Although the perfect male figure hasn't shifted as much, men have also been subjected to body ideals. Whereas a wide waist was once considered proper, men have been required to bulk up in terms of muscle rather than fat.
However, while the concept of the perfect body has shifted a great deal through history, having hang-ups about one's body hasn't. Men, and women in particular, still struggle with body image issues, whether they are too thin or too heavy.
Analyzing data from 3,177 people who took their Diet & Weight Loss Test, researchers at Queendom compared the personality traits of people of different weight categories. While some differences were expected, a few took the researchers by surprise:
(Note: Scores range on a scale from 0 to 100)
HEALTHY PERSONALITY TRAITS
SELF-EFFICACY
Individuals who possess self-efficacy believe that they have the ability to succeed and to handle challenges. Not surprisingly, people in the Healthy Weight group had the highest average score:

Healthy Weight group: 70
Underweight group: 64
Overweight group: 62
Obese group: 56
PROACTIVE ATTITUDE
Individuals who are proactive don't wait for things to happen, for opportunities to fall on their lap, or for others to tell them what to do. They take initiative when they want to make a change in their life. Once again, people in the Healthy Weight group had the highest average score:
Healthy Weight group: 64
Underweight group: 56
Overweight group: 61
Obese group: 56
SELF-ESTEEM
Self-esteem forms the basis of every decision a person makes, from what to wear to their choice of friends, partner, and job. Low self-esteem can significantly impact a person's body image, relationships, and professional success. While all groups struggled with some self-esteem hang-ups, the Underweight group suffered the most, most likely reflecting their focus on physical appearance as the defining factor of their worth:
Healthy Weight group: 65
Underweight group: 50
Overweight group: 63
Obese group: 59
SELF-DISCIPLINE
The ability to monitor and regulate feelings and behavior depends a great deal on self-discipline. Those who possess this trait tend to have stronger willpower, and are less likely to be impulsive. They think through their actions before taking them. Not surprisingly, the Obese group scored the lowest, while the Healthy group and Underweight group were neck-in-neck. Queendom's researchers theorize that controlling food intake – particularly to the extreme underweight people go to – requires discipline.
Healthy Weight group: 54
Underweight group: 55
Overweight group: 47
Obese group: 37
TOLERANCE FOR FRUSTRATION
Individuals with a low frustration tolerance struggle to deal with stress, delays, inconsiderate behavior, or any situation that makes them uncomfortable. They are unable to delay gratification; when they want something, they want it now. Along the same vein as self-discipline, the Obese group scored the lowest while the Healthy group and Underweight group were nearly tied.
Healthy Weight group: 53
Underweight group: 52
Overweight group: 47
Obese group: 40
"Being very underweight and very overweight has significant physical as well as psychological repercussions," explains Dr. Jerabek, president of PsychTests, the parent company of Queendom. "What's disturbing in today's society is that we often associate thinness with health and well-being but this isn't the case at all. In fact, the underweight group in our study didn't just use drastic weight loss measures like laxatives, fasting, and self-induced vomiting; they were also more likely to struggle with stress, and under such circumstances, once again resorted to unhealthy coping methods, like withdrawing from other people. The fact of the matter is, weight problems almost always point to a deeper psychological issue that isn't being dealt with. This means that regaining a healthy physical state will be difficult, if not impossible, if the underlying psychological problem isn't resolved."
Want to assess your diet habits? Go to http://www.queendom.com/tests/take_test.php?idRegTest=3092
Request a free demo of this test and any other assessments from ARCH Profile's extensive battery: http://hrtests.archprofile.com/testdrive_gen_1
To learn more about psychological testing, download this free eBook: Spotting Diamonds in the Rough. (http://hrtests.archprofile.com/personality-tests-in-hr)
About Queendom.com
Queendom.com is a subsidiary of PsychTests AIM Inc. Queendom.com is a site that creates an interactive venue for self-exploration with a healthy dose of fun. The site offers a full range of professional-quality, scientifically validated psychological assessments that empower people to grow and reach their real potential through insightful feedback and detailed, custom-tailored analysis.
About PsychTests AIM Inc.
PsychTests AIM Inc. originally appeared on the internet scene in 1996. Since its inception, it has become a pre-eminent provider of psychological assessment products and services to human resource personnel, therapists, academics, researchers and a host of other professionals around the world. PsychTests AIM Inc. staff is comprised of a dedicated team of psychologists, test developers, researchers, statisticians, writers, and artificial intelligence experts (see ARCHProfile.com). The company's research division, Plumeus Inc., is supported in part by Research and Development Tax Credit awarded by Industry Canada.