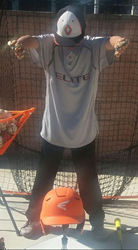 Tommy personal quote in order to win you have to fail and when you fail you appreciate winning cause of the hard work you put in to become a winner!
Thousand Oaks, CA (PRWEB) April 20, 2017
Tommy Goodin, age 12, is a boy with an extraordinary talent for baseball and a love for playing video games with his friends and family. Similar to Reggie and Cheryl Miller in basketball these two will be taking the baseball/softball world by surprise. Whether Batting Practice, Throwing speed, or Pokemon these two are quite a match.
Katelyn (little sis) playing 10u softball @ age 8, has been playing baseball/softball all-stars since age 4. Her 8u ASA all star softball team went to the State Championship last summer (2016) in Palmdale, CA, due to Katelyn's excellent short stop skills. This year look out for catching skills. Katelyn looks forward to playing 8u state action this summer. See you on the field.
Tommy Goodin look out.
Tommy Goodin is a member of the Urban Youth Academy Compton, CA, Bownet Elite (White) 14u baseball of Thousand Oaks, CA, and Inglewood City Elite aka ICE out of Inglewood, CA,
Travelling wide and far Tommy craves the skills and knowledge of the beloved game of baseball.
Tommy had an exceptional weekend in Peoria, Arizona February 10th-12th, 2017 playing in the Baseball Youth Magazine's Future Games. This was a nationwide individual player event where Tommy had a great time competing with kids from all over the country. He participated in his first 12u Homerun Derby and was crowned the Home Run Derby Champion 2017. Baseball Youth Magazine ranked Tommy Goodin IV aka Thomas Goodin number 1 in the country for his class of 2023. As the only national ranking system for kids 13 and under, Baseball Youth Magazine holds events all across the country to rank younger players. Quite an accomplishment for this young African American talent.
https://www.baseballyouth.com/national-rankings/?class=2023,
https://www.baseballyouth.com/tommy-goodin-2/ ,
http://web.usabaseball.com/article.jsp?ymd=20151124&content_id=189397698
Early in February of 2017 Tommy received a Golden Ticket invitation to Florida after being identified by the Amateur All-American Scouting Network (AASN) as a Top Prospect in his age division. This Golden Ticket is an invitation to participate in the USSSA Select30 Championships July 30 - August 5, 2017. Just last year Tommy at age 11 years old made the USA Baseball 12u National Open Roster at number 112.
Tommy Goodin is currently being developed by Coach Derron Spiller, owner of Bownet Elite in Thousand Oaks, CA and Coach Antoine Moten owner of Inglewood Inner City Elite baseball program out of Inglewood, CA. These programs provide guidance and training to Tommy as he strives to be an African American MLB player. This young man carries a tough baseball schedule for his age, he plays for Bownet/Easton Elite (white) 14u under the direction of Coach Renae Herrera. Tommy is now playing on a 60/90 field and this has provided the next level of challenge to his game. Coach Derron Spiller will carry Tommy throughout his junior/high school years. Tommy's eyes light up when he hits the field and he clearly feels very comfortable on the baseball field. Tommy dreams of playing baseball in college and for a MLB team one day. He is disciplined and when not practicing baseball or studying you will find him in a gym at Bas Ruttens Elite MMA Facility training his feet and eye/hand coordination or at Boost Your Average Batting Cages perfecting his swing. Tommy Goodin is a highly competitive young man who is in the gym or on the baseball field every day because he has big dreams with a mature understanding of what he needs to do to be the best.