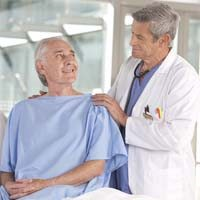 A significant difference in survival was observed in patients undergoing surgery versus no surgery...
Raleigh, NC (PRWEB) April 20, 2017
Researchers in Antwerp, Belgium say cancer stage may not have as much of an impact on mesothelioma survival as patients may think. Surviving Mesothelioma has the full story on it's website. Click here to read it now.
In a new study of 101 patients with malignant pleural mesothelioma, scientists at the University of Antwerp found that whether or not a patient had had surgery appeared to influence their odds of survival more than stage.
"A significant difference in survival was observed in patients undergoing surgery versus no surgery...and treatment with chemotherapy alone versus chemotherapy with surgery," reports study author Andreas Domen with the Department of Thoracic and Vascular Surgery at Antwerp University Hospital.
The article published in the Belgian medical journal Acta Chirugica Belgica says the results confirm what the team calls the "limitations" of the current staging system and were in line with what other mesothelioma researchers had found.
"Until the current staging system changes, the most important take-away message for mesothelioma patients and their families is that your cancer stage does not determine your fate," says Alex Strauss, Managing Editor for Surviving Mesothelioma. "Clearly, there are many variables that impact mesothelioma survival and every patient is unique."
To read the details of the new Belgian study, including an explanation of the TNM cancer staging method, see Surgery May Impact Mesothelioma Survival More Than Stage, now available on the Surviving Mesothelioma website.
Domen, A, et al, "Malignant pleural mesothelioma: single-institution experience of 101 patients over a 15-year period", June 2017, Acta Chirugica Belgica, pp. 157-163, http://www.tandfonline.com/doi/abs/10.1080/00015458.2016.1272253?journalCode=tacb20
For more than a decade, Surviving Mesothelioma has brought readers the most important and ground-breaking news on the causes, diagnosis and treatment of mesothelioma. All Surviving Mesothelioma news is gathered and reported directly from the peer-reviewed medical literature. Written for patients and their loved ones, Surviving Mesothelioma news helps families make more informed decisions.