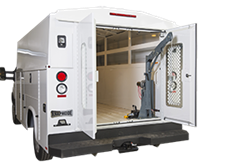 The ESV1000 was designed to fit multiple applications.
Cincinnati, Ohio (PRWEB) April 21, 2017
Venco Venturo Industries has introduced the Venturo ESV1000 enclosed service van crane. This crane was designed to provide versatility to those industries that utilize enclosed service bodies as their primary work vehicle.
The ESV1000 was engineered to lift a maximum weight of 1,000 LBS to be easily rotated within the cargo area. The crane includes a band brake, which provides the operator the ability to lock or unlock the mast rotation with the crane either loaded or unloaded. The main boom telescopes out to 3 FT using a multiple pin-lock. This feature enables the crane to be set the desired height based on the door height of the enclosed service body, giving the operator the ability to maneuver the crane to operate in any size door-way with multiple load options for maximum productivity.
A unique feature of the ESV1000 is that the winch is mounted along-side the crane utilizing a pulley-system to feed the wire rope through the mast. This provides the operator clearance while rotating the main boom of the crane.
The ESV1000 was designed to be easily installed in most enclosed service bodies.
Benefits of the ESV1000:

Zero winch interference
Fits most enclosed service bodies
Maximum capacity of 1,000 LBS
Telescoping Boom up to 3 FT