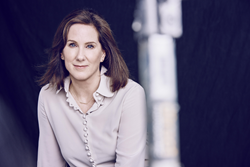 Los Angeles, California (PRWEB) April 20, 2017
WHO
Keynote speaker, 'Star Wars' Producer Kathleen Kennedy is joined by celebrity panelists including Producer Betsy Beers (Grey's Anatomy, Scandal), Director and Writer Millicent Shelton (Supergirl, Scandal, Empire), Editor Virginia Katz (Beauty and the Beast, Twilight: Breaking Dawn), Producer Gail Mutrux (The Danish Girl, Donnie Brasco, Rain Man) and more. The event is sponsored by Bad Robot, The Kennedy/Marshall Company, Amblin Partners, CBS Entertainment Diversity, Comcast NBCUniversal, Mandeville Films, The Mark Gordon Company, and Relativity School.
WHAT
Celebrities and entertainment industry professionals join The Archer School for Girls to present the Archer Film Festival, one of the only all-inclusive global high school events dedicated to empowering female filmmakers. With the goal "not to exclude men, but rather to include women," young filmmakers submitted over 800 student-produced films from all over the world. Twelve of these films will be screened at a pink carpet gala. The media are invited to attend the gala and moderated industry panels. Kathleen Kennedy will be available to speak to the media at the gala on Wednesday.
WHERE
Pink Carpet and Reception
The Writers Guild Theater: 135 S. Doheny Drive, Beverly Hills, CA 90211
Keynote Interview and Film Screening
The Writers Guild Theater: 135 S. Doheny Drive, Beverly Hills, CA 90211
Moderated Panels
The Archer School for Girls: 11725 Sunset Blvd, Los Angeles, CA 90049
WHEN
Wednesday, April 26, 2017
6:00 p.m.: Pink Carpet and reception at The Writers Guild Theater, Media Interviews with Kathleen Kennedy
7:00 p.m. Keynote Interview with Kathleen Kennedy at The Writers Guild Theater
7:30 p.m. Screening of Films at The Writers Guild Theater
Thursday, April 27, 2017
Moderated Panel at The Archer School for Girls
11:00 a.m. Betsy Beers Masterclass
12:00 p.m. Lunch
1:00 p.m. Women in Film & TV