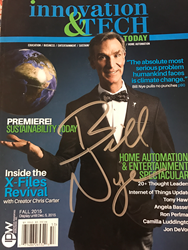 "Be Unstoppable!" said Bill Nye as he encouraged Editor-in-Chief Charles Warner.
Denver, CO (PRWEB) April 20, 2017
Award-winning magazine, Innovation & Tech Today, has just announced plans to team up with legions of science enthusiasts in the March for Science this Saturday.
To celebrate the occasion, the publication is offering free digital subscriptions and giving away a copy of a previous issue signed by none other than Bill Nye the Science Guy to a new subscriber.
Innovation & Tech Today is also combining its participation in March for Science with a celebration of its recently released spring issue, which features stars like Akon and Adrian Grenier, along with prominent science communicators.
With its involvement in March for Science, Innovation & Tech Today has positioned itself as a magazine willing to call out the current administration for its disdain for science and sustainability. To date, the quarterly has partnered with some of the most prominent events advocating these issues. The publication also produces two premium digital magazines STEM Today and Sustainability Today.
"We should not have an EPA that is being run by one of its biggest opponents. Clean air and water makes sense for everyone. Facts still matter and science should be championed as a pathway to innovation as we all come together to address pressing issues," said Editor-in-Chief Charles Warner, who spoke with Bill Nye at SXSW Eco.
Participants, supporters, and even opponents of the March for Science movement have been invited to join the conversation on Innovation & Tech Today's Twitter and Facebook accounts.