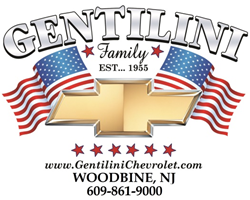 Chevy Youth Baseball is just one example of how committed our dealership is to supporting the youth and families in our community.
Woodbine, NJ (PRWEB) April 20, 2017
In the spirit of community collaboration and teamwork taught through youth sports, GENTILINI CHEVROLET is supporting Cape May County Little League through the Chevy Youth Baseball Program. This sponsorship will include both monetary and equipment donations during the 2017 youth baseball season.
Chevy Youth Baseball is a grassroots initiative that establishes a positive relationship between local dealers and the communities they serve. GENTILINI CHEVROLET is sponsoring Cape May County Little League as a part of Chevrolet's nation-wide commitment to support youth sports, one community at a time. Over the course of the season, GENTILINI CHEVROLET will also donate Chevrolet-branded equipment to the league.
Also, thanks to GENTILINI CHEVROLET and other participating area Chevrolet dealers, youth baseball participants will have a chance to attend a youth clinic with local professional baseball coaches.
"We are looking forward to a great season with Cape May County Little League that will be filled with exciting games and an enhanced experience for the teams through the equipment and cash donations," Frank Olivier, of GENTILINI CHEVROLET said. "Chevy Youth Baseball is just one example of how committed our dealership is to supporting the youth and families in our community."
The 2017 program will provide assistance to approximately 300 organizations in the Northeastern region and Chevrolet dealers will contribute over $450,000 in monetary and equipment donations.
ABOUT CHEVROLET
Founded in 1911 in Detroit, Chevrolet is now one of the world's largest car brands, doing business in more than 115 countries and selling more than 4.0 million cars and trucks a year. Chevrolet provides customers with fuel-efficient vehicles that feature engaging performance, design that makes the heart beat, passive and active safety features and easy-to-use technology, all at a value. More information on Chevrolet models can be found at http://www.chevrolet.com.
ABOUT GENTILINI CHEVROLET
The Gentilini Motors organization, located in Cape May, New Jersey has been serving the Southern New Jersey area since 1955. Family owned and operated, our organization is legendary for customer service, winning Ford's Presidents Award for Superior Customer Service over 15 years in a row (an achievement less than ten dealers in the nation can claim).
More recently we have been making a name for ourselves at GM with our acquisition of a Chevrolet store and successful implementation of our unique approach of family style customer service. We have become quite well known in the Dealership space for consistently providing technology leadership and unique approaches to enhance our customer satisfaction centric philosophy. At our dealership, we have devoted ourselves to helping and serving our customers to the best of our ability. We believe the cars we offer are the highest quality and ideal for your life needs.