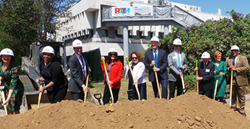 "The longer they [the homeless] wait, the more hope they lose" Nancy, formerly homeless and current PATH resident
Los Angeles, CA. (PRWEB) April 21, 2017
Affirmed Housing and PATH Ventures celebrate the groundbreaking of PATH Metro Villas, a 65-unit permanent supportive housing project that will serve low-income individuals many of whom are experiencing homelessness, chronic homelessness or poverty with a significant rent burden. Following the victorious win of Measure H and HHH in Los Angeles County, the well attended celebration included notable speakers such as LA County Supervisor Mark Ridley-Thomas, Jacqueline Waggoner of Enterprise Community Partners, Ben Metcalf of CA Dept. of Housing and Community development and more.
PMV will offer fifty-one units designated as Supportive Housing units and fourteen units will be for low-income households earning no more than 60% of the area median income. Located on the PATH campus, this is the third endeavor between Affirmed and PATH Ventures. The new six story building will consist of 33 studio units, and 31 one-bedroom units. The building includes a large community meeting room as well as 2,800 square feet in community facility space that will house veteran services, in addition to a lobby with property management and case management offices. Site amenities include a communal kitchen; 2 rooftop terraces, convenient laundry facilities, bicycle parking, security cameras, a large community facility, and a community room that contains significant natural light.
"We are proud to again partner with PATH Ventures to develop housing for the homeless. Services will be provided to residents to help them acclimate and again contribute to society. The new development will enlarge and strengthen the PATH mall and their mission to serve the homeless." James Silverwood, President and CEO.
Headquartered in San Diego, Affirmed Housing Group is dedicated to improving and sustaining the viability of California through the development of affordable housing. The company aims to enhance communities and our environment by building professionally-managed, high-quality, green, multifamily, senior and homeless housing. For more information, visit http://www.affirmedhousing.com.
###