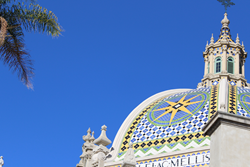 San Diego, CA (PRWEB) April 20, 2017
Today the Balboa Park Explorer Pass celebrates its third anniversary. Since 2014 the Explorer Pass has provided passholders the opportunity to explore the rich cultural and artistic offerings of Balboa Park in an easy and affordable way. Not only is an Explorer Pass the best money-saving option for enjoying all the Park has to offer, passholders enjoy exclusive access and events each month, such as unique behind-the-scenes tours, early entry into special museum exhibitions, and much more.
This month, the Explorer Experience will be Saturday, April 29 at the San Diego Art Institute. The museum is hosting a sewing workshop wherein participants will learn the basics of how to create a garment featuring their very own custom design from fabric remnants. Stitch and upcycle fabric bits. Explorers will have access to five time slots during the day and can find out more through their e-newsletters.
May's Explorer Experience will encompass three exclusive tours entitled "Richard Requa and the Moorish Gardens of Balboa Park" on Saturday, May 20, guided by the San Diego Floral Association. Richard Requa was the Master Architect for the California Pacific International Exposition held at Balboa Park in 1935-1936, who expanded upon the Spanish revival designs in the Park and gave it much of the look known today. Access to this event will be free for registered Explorer Annual Passholders.
On Sunday, June 11, the Mingei Museum will be offering exclusive docent tours of their exhibitions from 10:00 am-12:00 pm for RSVP'd Explorers, who can then stay for Family Sunday. Starting at noon, Family Sunday is an exploration of the museum's colorful exhibitions with an interactive treasure map, hands-on art project—even prizes! The Mingei will also extend a store discount that day and Explorers will be able to choose a free publication from a special Mingei selection.
ABOUT THE BALBOA PARK ANNUAL EXPLORER PASS
The Balboa Park Explorer Pass provides general admission to 17 museums in Balboa Park, with discounts for families, seniors and students, and no blackout dates, starting at just $99. In addition to exclusive Explorer-only events monthly, Annual Explorers also receive tailored, bi-weekly newsletters, up-to-date special announcements and personal recommendations and insights directly from Park staff. Annual, One-Day or Multi-Day Explorer Passes are available for purchase online at Explorer.BalboaPark.org. The Explorer Pass directly funds participating museums in Balboa Park. Visit us at Facebook.com/ExploreBalboaPark, Instagram.com/ExploreBalboaPark, Twitter.com/ExploreBP.
ABOUT BALBOA PARK CULTURAL PARTNERSHIP
Balboa Park Cultural Partnership is a nonprofit organization through which 28 arts, science and cultural institutions in Balboa Park collaborate to achieve shared goals. By helping these groups achieve greater organizational efficiency, innovation and excellence, it seeks to contribute to the vitality and sustainability of Balboa Park. For more information visit http://www.bpcp.org.