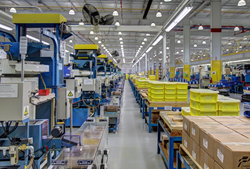 We retain employees by treating them like family.
Valley City, Ohio (PRWEB) April 27, 2017
Automotive parts manufacturer, Fuserashi International Technology (F.I.T. Inc.), continues to expand its workforce for the Fourth third consecutive year. The Valley City company increased its staff by 37% in 2016, adding 27 new associates.
The company has grown largely because its product offerings and volumes have continued to expand significantly. As the first company to move into the Valley City Industrial Parkway 20 years ago, F.I.T. started with a 30,000-sq-ft. building, and has since expanded its space over 500%, now standing at 200,000-sq-ft.
Through offering the highest quality products, F.I.T. has differentiated itself from other manufacturers in the industry. When the company was founded, it focused on one or two products. It has since kept its focus on quality and diversified its product line to include safety parts. Adding to its product line has necessitated building expansions and increased staffing needs.
With an emphasis on creating an unparalleled employee experience, F.I.T. has concentrated on recruiting employees interested in developing quality products and staying with the company long-term. Benefits include a great work-life balance, an open-door policy, opportunities to cross train, and more.
In addition to promoting its company culture, F.I.T. also offers a premier health insurance package, a Simple IRA, paid time off from the first day of work, and education opportunities. Regarding its high retention rate, HR Manager Jennifer Connelly says, "We retain employees by treating them like family, listening to their suggestions, and ensuring that they're engaged in their work environment."
In the past year, the company's HR team directed efforts towards hiring skilled employees specifically for CNC positions and hired 10 employees for these positions. As they continue to grow, they will be searching for skilled machine operators in 2017. Connelly says, "We continue the need to seek candidates for employment, to fill open positions. Along with a great reputation in the community, 25% of our workforce are referrals, which has helped us find employees in the past. With the launch of our updated website, we are hopeful that we can expand our reach to the potential candidates in our community who are seeking a career in manufacturing, and may not currently know that there are great career opportunities available within our organization. "
Learn more about the benefits of working at F.I.T., https://www.fitinc.net/why-work-at-fit/.
About F.I.T.
Established in February of 1996, F.I.T., Inc. is the first international subsidiary of Fuserashi Co., Ltd. Fuserashi is a Japanese manufacturer of hot and cold formed precision metal products and fasteners, primarily for various vehicle applications, with a tradition of quality, service, and performance. Since opening its doors over 20 years ago, F.I.T. has more than quadrupled its footprint, both in terms of facility size and equipment. With four major plant expansions, substantial employee growth, and an accelerating customer base, F.I.T. continues to innovate in its field.