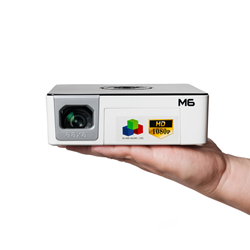 AAXA delivers a 1080P native resolution with its latest battery-powered micro projector, the M6, featuring a 90 minute battery, an array of connectivity and an onboard media player, ensuring anytime anywhere entertainment in HD.
Irvine, CA (PRWEB) April 21, 2017
AAXA Technologies is pleased to announce the release of the AAXA M6 Full HD 1080P LED Projector. The AAXA M6 LED Micro Projector is a next-generation solid-state mini projector that delivers native 1920x1080 (1080p) performance and operates on both battery and DC power. This increase in native pixel resolution is a revolutionary step from the 720P & WXGA pico projector family - made possible with an advanced DLP (Digital Light Processing) imager mated to true cinema-color 30,000 Hour LEDS. The M6 produces a brilliant 1200 LED Lumen picture at a true native 1920x1080 pixel resolution.
Excellent Cinema-Level Color Quality
The M6's direct projection of solid-state Red, Green, and Blue light enables cinema-color quality pictures through the elimination of filters or color-wheels (typically found in lamp-based projectors). The resulting picture is vibrant, sharp, and stunning. The high performance LEDs are able to produce an astounding 1200 LED Lumens of brightness, allowing 200" movies to be projected in dark areas from a 7" x 7" x 2.1" form factor, making it unrivaled in its size to brightness ratio .
Anytime, Anywhere Battery Projection
The M6 is the first fully portable, battery-powered Pico Projector able to deliver HD cinema quality projection. The M6 features a built-in 90 minute, 30 watt, Premium Grade Lithium Ion battery. Combined with durable solid-state LEDs, the M6 is built to withstand the rigors of mobile environments. The High Performance LEDs also enable the M6 to consume very little power while operating in a small form-factor – making the M6 an ultra-portable, lightweight, anytime / anywhere projector.
Highest In Class Resolution
The M6 Full HD projector delivers true native 1080P resolution without upscaling, pixel rotation, or other gimmicks found in many of the projectors claiming 1080P performance but often employing much lower resolution imagers sometimes even just 1/10 of the claimed pixels.
Onboard Media Player, Connectivity
The M6 micro projector features an onboard media player capable of directly playing videos, pictures, and music through a USB stick or micro TF card. With an onboard speaker and battery, the M6 is a true all-in-one entertainment projector. Additional connectivity features includes HDMI compatibility, VGA connector, AV port, and 3.5mm headphone port.
Speaker Upgrade for Portable Theater Use
The M6 allows for a speaker upgrade that replaces the existing battery pack with a premium speaker system for portable theater use (Available Soon).
Main Features

1920x1080 Native Resolution
200" Screen Size (dark room)
90 Minute Lithium-Ion Battery
30,000 Hour LED Light Source
Other Features - HDMI, Onboard 2-watt Speaker. 3.5mm Audio Output.
Pricing
The AAXA M6 Full HD LED Projector is available for sale at http://www.aaxatech.com for $599 and through our excellent retail partners.
About AAXA Technologies
AAXA Technologies Inc. was founded in 2008 as a developer and manufacturer of a new class of projector known as "micro" projectors and "pico" projectors. AAXA's core technology is based on small LCoS (Liquid Crystal on Silicon) and DLP (Digital Light Processing) imagers mated to LED (light emitting diode) and Laser light-sources that makes micro projectors and pico sized projectors possible. In 2010 AAXA launched the world's first laser pico projector and today remains a leader in mini-projector technology. AAXA holds several patents in optical and LCoS designs and manufactures the majority of its products in China, with core technological development occurring in both the Silicon Valley, California and China.