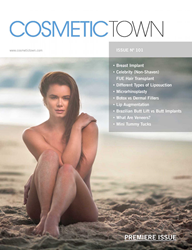 Los Angeles, CA (PRWEB) April 19, 2017
Cosmetic Town, an online plastic surgery and information community, has made the move from the Internet to print with the publication of the first issue of its print magazine. The new magazine is available for the public to enjoy in doctor's offices across the country and includes articles designed to educate the public about cosmetic surgery.
According to the senior editor of Cosmetic Town, "The magazine is filled with interviews and information provided by board-certified doctors from across the United States. Some of the content was previously shared online at cosmetictown.com while the rest of the articles are exclusive to the print edition of Cosmetic Town. All of the material in the magazine has been approved and peer reviewed by the doctors currently serving on our editorial board. This means that each article and interview is reviewed to make sure it contains the most up to date and accurate information at the time of publication."
When asked about the process of making a print edition of the online journal, the senior editor said, "The idea has been in the works for quite a long time. However, our team didn't want to rush the project just for the sake of publishing a print edition of the magazine. We assembled a team of doctors to oversee and approve the content and their participation was based on parts of the body specific to their medical area of expertise. The advisory board of doctors reviewed each section of the magazine to make sure the information included was up to their medical standards.
The first print issue of Cosmetic Town Journal can be found in the waiting rooms of doctors across the country. The senior editor stated that "the idea behind the distribution process was to make sure the magazine reached the largest audience possible. The doctors who received the magazine will strategically place it in their lobbies, or other waiting areas, so both patients and their family members can enjoy the magazine and learn more about the process of how plastic surgery is performed."
About Cosmetic Town
Cosmetic Town is an online cosmetic medicine publication that also features doctors who were endorsed and highly recommended by their peers. This reliable and streamlined database allows users to easily navigate the website and access the information they need with just a click of a button. Users can also stay informed and get the latest news on plastic surgery by reading the regularly updated news section. Visiting the forum page is also another way for users to stay engaged and keep each other up to date.