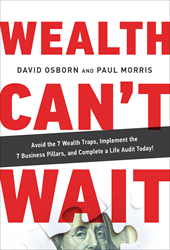 Wealth is something everyone wants to acquire, but many don't know where to start," says Heidi Krupp, founder and CEO of Krupp Kommunications.
NEW YORK, N.Y. (PRWEB) April 20, 2017
Krupp Kommunications is pleased to announce WEALTH CAN'T WAIT has landed on The Wall Street Journal's bestseller list. Authored by entrepreneurs and highly successful real-estate broker-owners, David Osborn and Paul Morris, the book shares trusted methods to take on a wealth mindset and develop wealth-building life strategies.
David Osborne Operating Partner Keller Williams and the Managing Partner Align Capital serves as partner in the #6 (out of 80,000) real estate company in the country, Keller Williams. Paul Morris CEO of a REAL Trends the top 50 brokerage company in America and the regional director of the second largest Keller Williams franchise.
Wealth-building takes knowledge and skills, discipline and work, which readers can learn through this new book developed with Osborne and Morris' unique perspectives.
"It doesn't have to be 'hard' work. It's play. By practicing what we offer in this book, you will learn to thrive and create the life you desire," says Osborn.
After the death of Osborn's father, he decided to write a book to keep his legacy alive and leave his own for his own children. As Morris always had a similar desire to write a book, the two business partners joined together to write WEALTH CAN'T WAIT, to share all they've learned and experienced to help others gain the opportunity to build a wealthy life.
"WEALTH CAN'T WAIT is not a get-rich-quick formula," says Morris. "This is a book with life strategies that are accessible and doable for all. It's a set of proven principles and mind-set practices that distinguish all wealthy people."
Packed with concrete action steps, valuable "wealth accelerator" tips, and real-world lessons from the authors' own experiences, WEALTH CAN'T WAIT presents a comprehensive, strategic wealth-building plan for a lifetime of gains—financial and personal.
"Wealth is something everyone wants to acquire, but many don't know where to start," says Heidi Krupp, founder and CEO of Krupp Kommunications. "David and Paul's approach is to start on the initial business targets traditionally fueling financial wealth. K2 has worked with many financial experts and authors so we're excited to work with these two new authors to share a unique and different perspective that they personally benefited from and want to share with others."
Inspiring and refreshing, WEALTH CAN'T WAIT is a guide to not just build wealth but to achieve a full and deeply enriched life.
To purchase, readers can visit Amazon (https://www.amazon.com/dp/1626344191/ref=cm_sw_r_tw_dp_x_Wwb3yb0QBBJBY) via @amazon
Tweet @wealthcantwait @IAmDavidOsborn @PaulMarkMorris teach how to build financial #wealth, and more!
Follow on Instagram: @WealthCantWait Book The official new Instagram for the upcoming book, Wealth Can't Wait by David Osborn & Paul Morris. Order today!
About the Authors
DAVID OSBORN and PAUL MORRIS are two of the top-selling broker-owners at Keller Williams Realty International, the largest real estate company in the world, with 4,500 agents and annual sales volume exceeding $8.5 billion per year. As a serial entrepreneur, David founded over 50 companies with at least 25 that are ongoing profitable concerns. In addition to owning regions and brokerages, David is the principal of a private equity group that has bought and sold 1,000 homes. He is also a member of the Keller Williams Master Faculty and founder and operating partner of GoBundance, an accountability-based group of generous entrepreneurs. He lives in Austin. Paul is an award-winning entrepreneur, trainer, author, and business consultant. As an active investor, he has grown his real estate portfolio to more than 700 rental units and 150,000 square feet of commercial retail space. In just over 10 years he transformed his California-based real estate brokerage business into the second largest Keller Williams franchise with 10 offices employing 3,000 agents. Real Trends ranked his ownership group the 22nd largest real estate brokerage in the United States having closed $5.4B in real estate sales in 2016. Before working full-time in real estate, he had a successful legal career and lives in Los Angeles. http://wealthcantwait.com/
About Krupp Kommunications, Inc.
Founded in 1996 by former television producer Heidi Krupp, K2 Krupp Kommunications is an award-winning, brand strategy and communications agency located in New York City. For more than two decades, K2 has partnered with a wellspring of pioneering thought leaders, authors, executives and celebrities, as well as startup and iconic brands that all share a common goal along with K2: To help people lead happier, healthier, more enriched lives. K2 has a successful track record for igniting and evolving both startup and global brands, and catapulting emerging authors, celebrities and television shows into the consumer consciousness via connections to cultural trends, influencers and strategic partnerships. The agency's deep commitment to taking its clients work personally is exemplified by its tenacious team of creative storytellers—many former journalists—whose "media mindset" appeals to both clients and national media alike.
For more information about K2 Krupp Kommunications, please visit http://www.kruppkommunications.com. Check out our LinkedIn Page, Follow us on Twitter @KruppKomm Read our stories on Facebook and watch us on Instagram @kruppkommunications