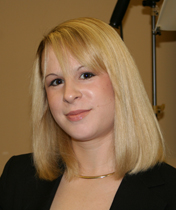 Clearwater, FL (PRWEB) April 21, 2017
The Tampa Bay law firm of Carlson, Meissner, Hart & Hayslett, P.A. is proud to announce attorney Sarah Barkley Raaymakers has been made a partner in the firm.
Originally from Charlottesville, Virginia, Raaymakers completed her undergraduate education at the College of William & Mary, where she studied French and Linguistics. She then relocated to Florida to study law at Stetson University College of Law. Raaymakers began clerking for Carlson, Meissner, Hart and Hayslett in 2007 when she was a first-year law student. Upon graduation in 2009, she accepted a position as an associate attorney.
Before practicing at Carlson, Meissner, Hart & Hayslett, Raaymakers interned at the National Center for State Courts in Williamsburg, Virginia, the Commonwealth Attorney's Office in Charlottesville, Virginia, and the Pinellas County Public Defender's Office. She currently practices in the areas of Social Security disability, workers' compensation, and personal injury law.
"Sarah Barkley Raaymakers was helpful, understanding and highly knowledgeable about my case from start to finish," said a former Carlson, Meissner, Hart & Hayslett client. This is just one of many testimonials that highlight Raaymakers' compassion and dedication to her clients.
Raaymakers is a member of the American Bar Association and is the immediate past president of the West Pasco Bar Association. She and her husband have two sons and live in Pasco County, Florida.
Since 1971, the attorneys of Carlson, Meissner, Hart & Hayslett, P.A. have served clients in Tampa Bay and throughout Florida in cases involving personal injuries and accidents, criminal defense, DUI defense, workers' compensation, Social Security disability, family law and immigration. The firm serves clients in multiple offices throughout the Tampa Bay area, and believes in every person's right to strong, fair, and honest legal representation. For a free initial consultation and case review, please call (877) 728-9653.