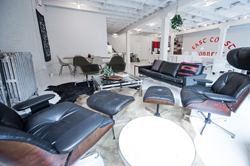 New York has always had great influence over who we are and what we do and we're hyped to make it official.
Portland, Oregon (PRWEB) April 26, 2017
After several years of growth in the Pacific Northwest, partnered with clients including adidas, Danner Boots and Patron Tequila, Portland-based creative company Kamp Grizzly has set up shop in a second location, carefully choosing Brooklyn, NY as the ideal site for enhanced access to clients, vendors and media.
The new Brooklyn office will help facilitate the frequent projects and activations taking place in NYC with existing clients, and it will serve as a second base to both East Coast and European-based clients
For several years Kamp has undertaken numerous adidas projects in NYC as the brand continues its rapid growth in the US. Recent activations and films have included the Hardies Hardware Collaboration filmed in The Bronx, Future Capsule at the New Museum in NYC, the limited edition launch of Leo Messi's soccer boots on 10.10, Eddie Huang x adidas pop-up restaurant launching two shoes designed by the chef, and launch activations surrounding adidas' brand new flagship store on 5th Ave., which opened December 2016.
Founder, CEO and ECD Dan Portrait said: "Kamp has long been at work in the streets of New York. For the past 10 years we've been all over the city, creating heat from Orchard St. to The Apollo. We've been collaborating with the creative people of New York in all sorts of spaces from photography and film to installation and experience. New York has always had great influence over who we are and what we do and we're hyped to make it official. Kamp East helps to better service our East Coast and European projects, too."
Kelly Olmstead, VP of Brand Activation at adidas, echoes Kamp's success and strength as a collaborator. "We've been partnering successfully with Kamp Grizzly for several years on projects across the US, and especially in New York," she said. "As one of a number of key cities for adidas, we're thrilled to see them opening Kamp East there."
Kamp specializes in brand activation, which means careful integration of multiple aspects under one creative concept: the event or production itself, social media, talent, influencers, film, photography, design, physical spaces, and more, all happening simultaneously as part of one idea to make a large impact. You can see their latest creative projects on the Kamp Grizzly website at KampGrizzly.com or their Instagram page.