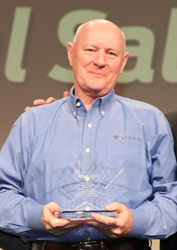 Dallas, TX (PRWEB) April 20, 2017
The Professional Retail Store Maintenance Association, (PRSM), the authority on retail, multi-site facilities management, announced today that Bill Ackerman, National Sales Executive, Vixxo is the 2017 Volunteer of the Year Award honoree.
Amanda Holup, President, Low-Slope Solutions, LLC, Myriah Kingen, Director, Repair & Maintenance, Extra Space Storage, Robbie Drake, Manager, Operations Maintenance Murphy Oil USA, Inc., Dave Emmons, Account Executive, Authority HVAC, and Steven Peldiak, President, Watterman Environmental & Facilities Management received the PRSM Service Excellence Awards for their volunteer service. All award winners were recognized today during the PRSM2017 National Conference in Dallas, TX.
The PRSM Volunteer of the Year Award is presented to a member who has distinguished themselves by elevating the association through their active engagement and leadership of PRSM Impact!, the official PRSM charity.
Ackerman has more than three decades of facilities management experience, and 20 years as a PRSM member. However, his dedication and service to the PRSM charity sets him apart from others. He was a driving force in the creation of the official PRSM charity, and has served as a Co-chair of the PRSM Charity Committee since it was established. He has given unselfishly of his time and energy to execute PRSM charity work projects and promote the charity to other PRSM members.
He was instrumental in developing the partnership PRSM Impact! now enjoys with Volunteers of America, and he has been a driving force in working with VOA to identify work projects, solicit volunteers and donors and get the work done.
PRSM Service Excellence Awards are presented to volunteer members who have made significant contributions to the Association and its membership community.
Holup, Kingen, Drake, Emmons and Peldiak, have all contributed to PRSM's success. They have led webinars, served on committees, spoken at conferences, participated in Retail Store Maintenance magazine articles, written Best Practices papers, and recruited others to become PRSM members. Their tireless support and endless contributions enhance the value of PRSM for all members and make PRSM stronger, more viable and more attentive to member needs.
"Volunteers are the lifeblood of PRSM. We simply could not provide the high-quality services, events, and other valuable programs without their ongoing support. PRSM's Volunteer of the Year and Service Excellence Awards represent the highest volunteer service honors bestowed upon members by the Association and set a standard of excellence against which all other associations can be measured," said Jonathan Bauer, 2017-18 Chair, PRSM Association 2017-18 Board of Directors and Sr. Director Store Development, Gap Inc.
Professionals honored are nominated by their peers for recognition. Recipients will receive their awards April 19, 2017, during a special luncheon at PRSM2017 National Conference in Dallas, TX.
###
About the Professional Retail Store Maintenance® Association (PRSM)
PRSM Association, the authority on Retail and Multi-site Facilities Management, is the leading membership organization for retail facilities and vendor professionals. PRSM empowers the Retail Industry facilities management with best practices, benchmarking, education, discussion forums, and trusted partnerships. Chartered in 1995, and with more than 950 member companies, the PRSM community values are founded on a spirit of innovation, resourcefulness, the quest for knowledge and ethical business relationships. Members depend on PRSM to help them achieve greater success and a competitive advantage through quality programs and resources.