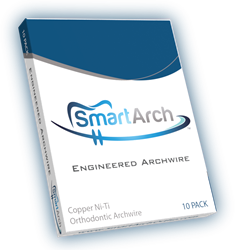 SmartArch is now a complete archwire solution for orthodontists
Waterloo, ON (PRWEB) April 22, 2017
Smarter Alloys™ today announced the new SmartArch™ VariTorque archwire at the American Association of Orthodontists Annual Session in San Diego, California. VariTorque archwire brings the revolutionary force control of SmartArch technology to rectangular wires. "We're adding another dimension of force control to SmartArch," said Dr. Michael Kuntz, VP Operations, "Rectangular VariTorque wires offer orthodontists the most advanced torque control available in an archwire."
SmartArch is a revolutionary new system of orthodontic archwires that are programmed to express the biomechanically optimized force at each tooth, increasing treatment efficiency. VariTorque is the first rectangular archwire with variable torsional flex in each interbracket region for tooth-to-tooth torque control. There is no need for different wire sizes, which increase bracket slot play and reduce torque expression. With VariTorque, orthodontists achieve gentle forces where they're needed while gaining earlier torque and rotational activations. When used following the SmartArch Universal round wire, VariTorque rectangular wires can be placed earlier in the treatement, reducing the overall time.
"SmartArch is now a complete archwire solution for orthodontists," said Dr. Ibraheem Khan, founder and CEO of Smarter Alloys. "Today, we're able to offer the full range of forces required for alignment, levelling, rotation and torque for every tooth in a simple two wire system."
SmartArch is available in 10 packs for US$150. Smarter Alloys will be demonstrating the new technology at the AAO Annual Session in San Diego, California from April 22 to April 25. Visit http://www.smartarchortho.com for purchasing information.
About Smarter Alloys
SmartArch wires are proudly made in Canada by Smarter Alloys Inc. using our proprietary Multiple Memory Material™ technology. Smarter Alloys is at the forefront of the smart materials revolution. Our unique ability to program shape memory behaviour makes it possible to create complex machine-like function in simple devices. Thanks to Multiple Memory Material technology, we are transforming the design and utility of shape memory alloys used in medical, dental, automotive, aerospace and consumer industries. Founded in 2010 and based in Waterloo, Ontario, Smarter Alloys is a privately controlled Canadian corporation. For more information, visit http://www.smarteralloys.com.