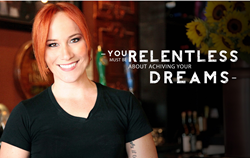 "I probably had a million reasons NOT to risk pretty much everything I had at the time," said Calvo.
Miami, FL (PRWEB) April 20, 2017
What has become an improbable 10-year journey, one that's thrust Chef Adrianne Calvo towards culinary acclaim, began with some impulse Googling and a visit to a nondescript miniature strip mall.
In the Spring 2007, curiosity led Adrianne, a distinguished alumnus of renowned Johnson and Wales University temporarily out of the culinary field, to scout out some potential restaurant locations in the enclave of the Hammocks in Miami's West Kendall suburb. Physically and stylistically far removed from what conventional wisdom would dictate as a "hot spot" for a South Florida eatery—i.e. Coral Gables,Wynwood, Coconut Grove, or South Beach – the location was nevertheless close to home, and just as important, financially feasible.
It was an unlikely setting for what anyone but Adrianne would have considered an equally unlikely business venture. She received plenty of well-intentioned warnings about how the overwhelming majority of restaurants shuttered in five years or less, and how starting up any business was a recipe for indentured servitude. Oh, and becoming the female proprietor of an eating establishment at the precocious age of 23? Pure, unadulterated crazy talk.
Flash forward to April 2017, and all of the apprehension that many around Adrianne felt – but that never permeated her own confidence – turned out to be pleasantly unfounded. Chef Adrianne's has defied the odds to not only thrive for a decade, but become one of Miami's most coveted locales for partaking in what should be the hallmark of any successful restaurant- tantalizing food.
Adrianne officially took the entrepreneurial plunge 10 years ago this April 28th with the belief that "Maximum Flavor" and unmistakable quality would make the trek south for many of her patrons thoroughly worthwhile. Having surveyed the South Florida restaurant landscape at that time, she had discovered one of the area's "dirty little secrets": while Miami certainly offered an expansive food scene, it wasn't necessarily teeming with eateries featuring dishes memorable enough to prompt consumers to drive long distances. There's something to be said for proceeding confidently in the direction of one's dreams. No matter what circumstances presented themselves once Chef Adrianne's opened its doors -- a 2008 nationwide recession that sent many businesses into free fall, a location far removed from the hub of fine dining, and a fickle city that is often merciless in embracing the trendy and discarding the rest – the establishment not only overcame, but also experienced year-to-year growth. In 2013, MIAMI Magazine and UrbanSpoon named Chef Adrianne's, Best Restaurant Miami and she won the Cordon D'Or for Best Chef Florida. In 2015 and 2016, Adrianne was named Best Chef Miami and Best Restaurant Miami by Miami New Times People's Choice. As one of the biggest milestones in 2016, Chef Adrianne was asked to represent the United States as a delegate at Terra Madre for the global Slow Food Movement, a true testament to her craft. Among the accolades in 2016, Zagat named Chef Adrianne's Vineyard Restaurant and Wine Bar "The 15 Most Unique Restaurants in America." And her 24hour Braised Short Ribs made it to Thrillist's "50 things you have to eat before you die."
The trademark qualities that propelled Chef Adrianne's through the typically precarious early years of a restaurant's life cycle-- consistency, a great atmosphere, unwavering commitment to quality and a healthy tolerance for calculated risk – are just asintegral to its ongoing and ever-expanding success today.
Her trusted sous chef has been with her since Day 1; her parents and husband continue to be a vital part of the operation; Adrianne herself is the diametric opposite of an "absentee owner", perpetually in the kitchen, thoroughly immersing herself nightly into each menu item; the exclusive use of fresh ingredients is non-negotiable, irrespective of whether that adds time and steps to the overall preparation.
Within the familiar confines of her elegant yet quaint Napa Valley-themed locale, Adrianne is equal parts culinary artist and doting "parent" to the restaurant that carries her name. A self-described "food nerd", the unrelenting passion she carries for culinary creation and innovation– a bug that latched on to her in middle school and never let go – helps keep her happiest when she's in the unforgiving temperatures of a kitchen running at full throttle. The burn marks that occasionally dot her arms? Badges of honor in the never-ending quest to catch lightning in a bottle, one dish at a time.
In fact, the presentation of those very dishes on her social media platforms has proven highly effective in sending the salivary glands and imaginations of her thousands of her online followers into overdrive. And just like the artist that created them and the way in which they're prepared, those images are no-frills- what you see online is what you get if you walk through Chef Adrianne's doors. There's none of the ornate food styling that is typical in the industry. The "beauty" of each item emanates from the painstaking detail that went into making it, and not the sleight of hand of a professional photographer.
Defying the odds is interwoven within the very fabric of Chef Adrianne's- an independent, female-owned restaurant in a relatively remote location that those in the rest of the country -- and many within Miami, for that matter -- don't associate with the glitz and glamor of South Florida.
Ultimately, the foundation of Adrianne's success really couldn't be any more appropriate- it's the food that gets them in the door, and it's the food that keeps them coming back.
Michael Beovides
Sr. Publicist
Gorilla Management Group
(O) 786-228-3948
(C) 786-303-7800
mike(at)gorillamgt(dot)com