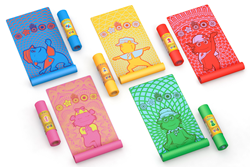 New York, NY (PRWEB) April 25, 2017
JellyJam Entertainment, creator of The Moodsters, announced today the introduction of their new Moodster Mats – yoga mats for children. With a mission to build social emotional skills in preschoolers, The Moodsters are helping support children's growth of the mind-body connection through these new yoga mats, as yoga helps children learn concentration and focus, self-regulation and is a great outlet to manage stress through breathing and other calming techniques.
Available in 5 unique designs featuring each of The Moodsters, every purchase of the Moodster Mat includes a poster featuring ten different yoga poses. The premium mats are made from TPE material, and are free of PVC, rubber, toxins, latex, chloride, and lead. Their closed cell construction makes them odorless and hypoallergenic. They are also biodegradable and recyclable, helping to play a role in protecting our environment.
"Our new Moodster Mats create the perfect space for beginner yogis to learn about their bodies, build concentration, develop flexibility and create healthy habits for a lifetime," said Maureen Taxter, Executive Vice President of JellyJam Entertainment.
The American Academy of Pediatrics (AAP) and The National Association of the Education for Young Children (NAEYC) recommend that children should participate in activities that support the development of the whole child. The American Academy of Pediatrics (AAP) recommends yoga as a safe and potentially effective therapy for children coping with emotional, mental, physical, and behavioral health conditions.
Nationally recognized celebrity yoga teacher, Health Magazine contributing editor and author, Kristin McGee, is partnering with The Moodsters to help promote the benefits of yoga for children and provides instructions on how to get kids started.
"I am thrilled to be partnering with The Moodsters to help spread the importance of kids partaking in yoga and helping support their mind-body connection," said Kristin McGee. "The new Moodster Yoga Mats are perfect for kids to learn how to cope with emotional, mental and physical challenges through breathing, awareness and meditation."
The Moodster Mats are retailed through Kriya Veda, a premium yoga brand that focuses on high quality, eco-friendly products. They are now available online at kriyaveda.com and retail for $56.00.
The Moodsters are a first-of-its-kind, award-winning brand created to help kids build their social emotional and physical well-being. Created by parenting and child development expert, Denise Daniels, The Moodsters product line features an award-winning collection of electronic toys and books by Kids Preferred. For more information visit: http://www.themoodsters.com
About The Moodsters:
The MoodstersTM is a first-of-its-kind brand, developed by Denise Daniels, CEO & Founder of JellyJam Entertainment, a Peabody award-winning broadcast journalist, parenting and child development expert and author who specializes in the social and emotional development of children. The MoodstersTM stories and educational toys teach simple strategies to build social and Emotional Intelligence (EQ) skills in young children.
About Kriya Veda: Kriya Veda is a premium yoga inspired brand that represents clean living, luxurious design, and exceptional quality. Our passion is creating transformational lifestyle products that focus on the inner and outer well-being of our customers. Our mission is to connect, inspire, and motivate every day with our eco-chic accessories. We create versatile products that are non-toxic and eco-friendly, because we want you to feel confident about taking a greener path to wellness. For more information go to http://www.kriyaveda.com/
About Kristin McGee: Kristin McGee is a nationally recognized celebrity yoga and Pilates teacher, speaker, mompreneur, and author of Chair Yoga: Sit, Stretch, and Strengthen Your Way to a Happier, Healthier You. Her exceptional teaching abilities and unparalleled knowledge of fitness and health has established her as a sought after trainer with a continuous roster of high profile celebrities including Tina Fey, Bethenny Frankel, Savannah Guthrie, Steve Martin, and Christine Taylor Stiller. She's appeared on national television shows such as Access Hollywood, CNN, Fox, Good Morning America, The Early Show, and the Today Show and has been featured in magazines including Fitness, Glamour, Health, InStyle, People, Prevention, Shape, Vogue, and Women's Health. Named one of the top 100 most influential yoga teachers in the U.S. by SONIMA in 2016, Kristin is also a contributing editor at Health Magazine. Her appeal has always been that she makes fitness fun, cool and accessible to the masses: students of all ages and stages. Kristin is the proud mom to her toddler Timothy and newborn twins Robert and William. For more information go to http://kristinmcgee.com/
###