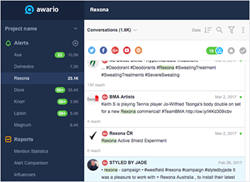 (PRWEB) April 20, 2017
Link-Assistant.Com, the software house behind Awario and SEO PowerSuite, essential products for digital marketers, announced this morning the release of Awario 2.9, the fully redesigned version of the social media listening app.
Launched in November 2015, Awario is an online application for monitoring brand mentions in the Web and social media. The application finds instant conversations based on the alerts users set. Awario is popular among reputation managers, social media enthusiasts, and anyone keen on spotting every mention of themselves, their business, or the topics that interest them.
"Best marketing strategies start by simply listening to what people are saying within your industry. These real-time conversations help you get new customers, build brand awareness, and research your market. To help customers get the most value on Awario platform, we're introducing a much cleaner dashboard, making it as straightforward as possible to see how ones' online presence looks like," says Aleh Barysevich, Founder and CMO, Link-Assistant.Com.
The redesigned Awario dashboard also features easier navigation: the mention feed shows all filtering options straight away, and the hierarchical navigation dashboard mirrors the usual workflow.
The updated tool also displays the limits according to the users' pricing plans, making it easier for Awario users to plan their social media activities without worrying that they might unexpectedly run out of mentions.
To top that, Awario 2.9 is 100% mobile-friendly: the app adjusts automatically to every operating system and to every device.
More information about Awario makeover is available at https://awario.com/redesign. To evaluate the improved UI, users are invited to sign up for a free 14-day trial at the official website https://awario.com/.
About Awario and Link-Assistant.Com
Link-Assistant.Com is an industry-leading software house, with a focus on developing tools for smarter Internet Marketing. The company's range of products includes Awario (an online app for monitoring social and web mentions) and SEO PowerSuite (end-to-end SEO Tools). To stay on top of Awario news, sign up to the blog updates and follow the product on Facebook fb.me/AwarioApp and Twitter @AwarioApp.