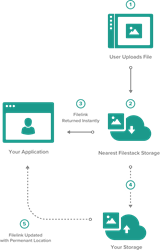 "The Filestack CIN is intended to help anyone, anywhere, no matter what their network conditions are, ensure their content is getting to cloud storage hubs so it can be served and consumed by anyone on the web." Says Filestack CTO, Wayne Walls.
San Antonio, Texas (PRWEB) April 25, 2017
Today Filestack, the developer service for uploading and managing files used by more than 50,000 developers worldwide, announced the release of its Content Ingestion Network (CIN). The Filestack CIN acts as a "Reverse CDN" to dramatically increase upload speeds for users uploading files from all regions of the world.
For over a decade, developers have used Content Delivery Networks (CDNs) to optimize file delivery. CDNs provide globally distributed networks of servers that cache static web content (HTML, CSS, and Images), allowing web pages to load quickly, therefore reducing the time a user has to wait to view content. The reduced wait time improves user experience, encouraging users to spend more time on the website and to purchase more.
The Filestack Content Ingestion Network (CIN) applies similar tactics to optimize for file upload speed. The Filestack CIN uses Filestack's globally distributed network of Ingestion points-of-presence (POPs). Filestack has 5 Ingestion POPs now, and is quickly growing that number to 20+. With the Filestack CIN, developers do not have to wait until the file is stored in its final destination before using it in their applications. Upon upload, the file is stored in the nearest Filestack Ingestion POP, and a file URL called a filelink is generated almost instantaneously for use. While the filelink is in use, the original file uploads asynchronously to its final destination. Once the file is stored in its final destination, the filelink automatically adjusts to point to the permanent cloud storage location.
The CIN has been proven to increase upload speeds dramatically. Using regular methods for uploading files, a small file (~3MB) can take up to 12 seconds to upload. With the Filestack CIN, this upload time is consistently reduced to under 1 second. Larger files (~100MB) can take over 60 seconds to upload normally, however, with the Filestack CIN, they are accelerated to only 6 to 9 seconds depending on the region. The Filestack CIN offers power, consistency, and security.
This new file upload capability comes at a time when user-generated content growth is exploding. According to the latest Kleiner Perkins Internet Trends report, there are now 3.25 billion photos shared per day on the five most popular social media sites, with over 18 billion video views per day on Facebook and Snapchat alone. The ability to upload and manage content with speed, security, and reliability has never been more important for a web developer.
Summary of New Features:
The Filestack CIN offers many benefits to developers uploading user generated content.
(1) The Filestack CIN is built for developers who have a globally distributed customer base uploading large files (ex: social networks, ed-tech, printing & e-commerce platforms).
(2) With 5+ Storage POPs, the Filestack CIN accelerates file uploads dramatically, regardless of region or network conditions.
(3) The Filestack CIN can upload files to any centralized storage container with Amazon Web Services, Microsoft Azure, Dropbox, Rackspace or Google Cloud Storage.
(4) The Filestack CIN can be paired with Filestack's cloud integrated file uploader, image processing engine, image CDN, and more features for ultimate file uploading power.
(5) The Filestack CIN can be set up immediately for Filestack users, with minimal changes to your codebase.
Learn more at https://www.filestack.com/
About Filestack
Filestack is a developer service for file uploading in the exploding realm of user-generated content. Like APIs from other parts of the technology stack, such as Stripe and Twilio, Filestack allows software developers to integrate more than 25 of the world's leading social networks and cloud drives with just a few lines of code. End users can upload content from websites and mobile apps like Facebook, Instagram, and Dropbox or wherever that content is stored. Filestack enables developers to upload and store large files, transform and manipulate images and other file types, and deliver that content with blazing speed, responsively, across any type of desktop or mobile device. Filestack is headquartered in San Antonio, Texas and is used by more than 50,000 app developers and well-known companies like Virgin, Zenefits, Buzzfeed, and Class Dojo.
Media inquires
Wayne Walls - CTO
press(at)filestack(dot)com