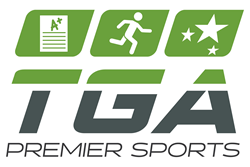 With school budget cuts taking away physical education classes, before and after-school sports programs for students ages 5-13 are becoming increasingly more important to keep kids healthy and active
Los Angeles, CA (PRWEB) April 21, 2017
TGA Premier Sports (TGA), a leading franchise company specializing in introductory sports programs, announces the launch of its next franchise venture – TGA Team Sports.
In addition to TGA's (Teach Grow Achieve) popular golf and tennis programs, schools and students ages 5-13 will now have the following team sports opportunities to participate in: Cheerleading, Flag Football, Floor Hockey, Lacrosse, Ultimate Frisbee and Volleyball.
TGA Team Sports joins the already fast-growing TGA Golf and Tennis franchise businesses that are sweeping the nation impacting youth, families, schools, community centers and the golf and tennis industries. With the addition of Team Sports, franchisees will now be able to offer a variety of sport options for families to keep their kids active while developing athletes.
The first wave of new TGA Team Sports franchises are being established in eight markets, which include East King County and North Seattle, WA, Bergen County, NJ, Arapahoe County, CO, Los Angeles and Beach Cities, CA, Gwinnett County, GA, North San Antonio, TX, and Tucson, AZ. An additional eight to ten more markets will come online by July 2017.
TGA CEO Joshua Jacobs feels the launching of TGA Team Sports helps to solve a pain point in youth sports for participants, parents and schools:
"With school budget cuts taking away physical education classes, before and after-school sports programs for students ages 5-13 are becoming increasingly more important to keep kids healthy and active," he said. "Through our unique enrichment curriculums, students will not only be learning and playing sports but they will also experience the academics behind the sport through STEAM (Science Technology Engineering Art Mathematics) Labs during class time."
TGA franchisees will also benefit through the new offerings expanding beyond golf and tennis.
"With the accelerated growth our Golf and Tennis franchises are seeing in participation and number of schools and community centers they serve, the new sports and franchise offering are natural verticals for us to add to the existing business and curriculum infrastructure," Jacobs said. "Team Sports provides our current and new franchises the opportunity to lower customer acquisition costs and maximize our franchisees efficiency."
TGA franchises that run Team Sports will be able to incentivize families to have their children participate in multiple sports. With the increased visibility of the American Development Model (ADM), early sport specialization is fading and TGA will be on the forefront of the movement to create an all-around athlete by offering numerous introductory sport programs in one location. 
TGA franchises will now be able to offer up to eight sports programs in schools, community centers and camps allowing franchises to grow their businesses quicker and more efficiently. Each of the eight TGA sport curriculums will follow the same class structure and outline creating economies of scale for training new coaches and allowing them to coach across multiple sports as well. 
Communities and families nationwide have embraced TGA youth sports programs not only because of its innovative station-based curriculum that combines athletics, academics, and life-skills, but also a safe and healthy environment for kids to participate and have an unparalleled experience playing sports. Students also participate in interactive STEAM Labs that allow them to explore and relate concepts such as gravity, aerodynamics, and simple machines through the sports they are playing.
TGA Team Sports aligns with the ADM created by the U.S. Olympic Committee, which includes skill progression and physical fitness creating a pathway toward an active and healthy lifestyle.
About TGA Premier Sports
TGA Premier Sports (TGA) is a leading introductory and recreational youth sports programming company specializing in golf, tennis, and now team sports. Through an innovative franchise business model recognized by Entrepreneur Magazine as a "Top 10 Franchise Value," with franchise fees ranging between $16,000 and $40,000, TGA empowers passionate entrepreneurs to impact the lives of youth and families by bringing youth sports enrichment programs into their communities.
TGA franchises can be found in more than 80 markets across 23 states, as well as internationally in Canada and Spain. Its continued growth has impacted over 700,000 youth and made these sports available to 1.75 million families. Future expansion strategies include the addition of 100 more franchises over the next two years and impacting another one-million youth through its education based programs and the TGA Sports Foundation, which provides access for all children and promotes the physical, educational, social, and character-building elements of these sports.
For more information on TGA Premier Sports, visit http://www.playtga.com or http://www.franchisetga.com and follow @TGA_Sports on Twitter.