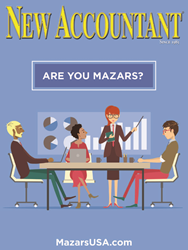 Chicago, Illinois (PRWEB) April 25, 2017
New Accountant Magazine, a trusted professional journal for college accounting students since 1985, has released its latest issue, available both in print and online.
This issue of New Accountant provides important tips to students and professionals entering the accounting world and how to excel and succeed once you get there.
"New Accountant aims to provide crucial information to students aspiring to be accountants. With graduation on the horizon we hope to prepare our students for the next steps as young professionals," says Steven Polydoris, New Accountant Editor & Publisher.
This issue starts off with a Student Outlook article, "Basics of Estate Planning for New Accountants" by professor Randall Hanson. As a future accountant, it is important to understand basic estate planning tools and background information to properly guide clients. Professor Hanson focuses on the length of this process, the important steps that need to be taken and tips on how to efficiently assist clients.
Soon-to-be graduates frequently ask for ways they can differentiate themselves from others on the job market. In Gregory P. Tapis and Spencer C. Usrey article, "Distinguishing Yourself on The Job Market: Passing a Professional Examination While a Student," they layout just how. Aside from the popular CPA exam, the authors also touch on three other professional examination courses students can take along with tips and suggestions for making the testing process a success.
Chris Roberts and Dana Barclay write the featured cover story in this issue, "Are You Mazars?" This article explores the accounting firm Mazars USA LLP, formerly known as WeiserMazars LLP. The vision at Mazars is to "be a premier professional services firm that provides diverse and rewarding experiences for our people, our clients and in the communities we serve." Putting people first was always a priority to Mazars. This also means that everyone is unique and at different stages of there lives and careers. Mazars understands that in order to meet the commitments of their clients, it starts with the treatment and well being of their team members! Roberts and Barclay offer examples of how Mazars provides diverse and rewarding experiences for their employees.
The authors also present how students can get to know Mazars as a company, how to take advantage of events held on campuses and what Mazars looks for in their employees. The article reads, "our aim is to recruit great people who can create rapport with clients and who build respectful relationships with their team members."
Learn more about how one accountant's story demonstrates a path to success in the Professional Outlook article, "Innovation as the Young Accountant's Competitive Opportunity" by Maureen P. Breen and Kelly McDevitt. Also learn life tips in "A Letter to Our Grandchildren" by Bill Powell.
Featured advertisers in this issue include AICPA, Bay Path University, UC Riverside - The A. Gary Anderson Graduate School of Management, IMA (Institute of Management Accountants), Mazars USA LLP, Rutgers Business School, Surgent CPA Review, University of Michigan – Flint, and University of South Dakota.
About: Published since 1985, New Accountant is a professional print and online publication edited for college accounting students and accounting professionals to prepare for a career in accounting, auditing, and industry. For more information, visit http://www.NewAccountantUSA.com, email inquiries(at)newaccountantusa(dot)com.