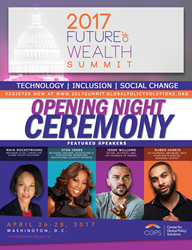 Washington, D.C. (PRWEB) April 20, 2017
"The 2017 Future of Wealth Summit: Technology, Inclusion and Social Change" will be hosted by the Center for Global Policy Solutions on April 26-28, 2017. Nearly three dozen diverse experts will discuss how technology can foster convenient access to critical information and services without reinforcing bias, narrowing choices, and undermining privacy.
Speakers and guests will include Jesse Williams, actor, activist, and co-founder of the startup mobile app Ebroji; Star Jones, a noted television personality and attorney who heads the National Association of Professional Women and Professional Diversity Network; U.S. Reps. Greg Meeks (NY-5th) and Eddie Bernice Johnson (TX-30th); and Panama Jackson, co-founder of the popular VerySmartBrothas blog.
The Summit will feature the "Inclusion Revolution Innovation Competition," where four tech innovators, including a Baltimore-area high school senior, will vie for a $10,000 prize to fund his or her technology-based plan to uplift historically marginalized communities. Other special events include an award's luncheon honoring notables who have worked to bridge the digital divide and a special screening of the acclaimed documentary "Against All Odds: The Fight for a Black Middle Class."
WHAT: The 2017 Future of Wealth Summit: Technology, Inclusion and Social Change
WHERE: Washington Court Hotel, 525 New Jersey Avenue NW, Washington, DC.
WHEN: April 26-28, 2017
WHO:

Jesse Williams, Ebroji
Star Jones, National Association of Professional Women/Professional Diversity Network
U.S. Rep. Greg Meeks (NY-5th)
U.S. Rep. Eddie Bernice Johnson (TX-30th)
Maya Rockeymoore, Center for Global Policy Solutions
Panama Jackson, VerySmartBrothas.com
Daniel Araya, Brookings
Algernon Austin, Demos
Nikitra Bailey, Center for Responsible Lending
Melissa Bradley, Sidecar Social Finance, Georgetown University
Steve Clemons, The Atlantic
Natalie Cofield, Walker's Legacy
William Darity, Jr., Duke University
Jotaka Eaddy, LendUp
Laura I. Gomez, Atipica
Ron Gonzales, Hispanic Foundation of Silicon Valley
Christopher Gray, Scholly
Neil A. Green, Intel
Darrick Hamilton, The New School
Chanelle Hardy, Google
Ruben Harris, Breaking Into Startups
Chase Iron Eyes, Lakota People's Project
Ben Jealous, Kapor Capital
Avis Jones-Deweever, Diversity, Equity and Inclusion Solutionist
Sarah Kunst, Proday.co
Mary Madden, Data & Society Research Institute
Tony Maldonado, IGRP Insignia Entertainment
Greisa Martinez, United We Dream
Taylor Moore, Center for Democracy and Technology
Irum Musharraf, PayActiv
Jessica Norwood, The Runway Project
Ramona Ortega, My Money, My Future, Inc.
May Samali, Urban Innovation Fund
Aaron Saunders, Clearly Innovative, Inc.
Sam Sinyangwe, Campaign Zero
William Spriggs, AFL-CIO
Jennifer Tescher, Center for Financial Services Innovation
Shaunna Thomas, UltraViolet
Wilson White, Google
###
Founded on the principle that a more inclusive nation is a stronger, more prosperous one, the Center for Global Policy Solutions (CGPS) is a 501(c)(3) that equips businesses and organizations with the tools to effect change and drive society toward inclusion. Drawing on our unique blend of policy and advocacy expertise, CGPS develops strategies, research, programs, policies, and communications that address disparities in health, education, and economic security by race/ethnicity, place, gender, and age.