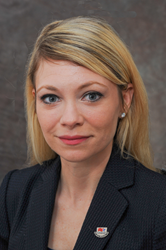 "It's a high honor and attests to the level of excellence we strive to achieve within our service," said Christopher Buser, social work chief at the VA Maryland Health Care System.
Baltimore, Md (PRWEB) April 20, 2017
The Maryland Chapter of the National Association of Social Workers has selected Shaundra "Shae" L. Allen, a social worker at the VA Maryland Health Care System, as its 2017 Social Worker of the Year at its annual awards ceremony on March 31. The organization recognized Allen, who earned her master's degree in social work in 2012, saying she has made outstanding contributions to the field of social work in the areas of student development and programs for both veterans and the aging populations.
"We're thrilled that an association of professional social workers has selected one of our own as Social Worker of the Year," said Dr. Adam M. Robinson, Jr., director of the VA Maryland Health Care System.
Christopher Buser, chief of Social Work at the VA Maryland Health Care System said, "It's a high honor and attests to the level of excellence we strive to achieve within our service. We're proud of the compassion and empathy and of the diligence and innovation our team brings to the VA's efforts to best serve our veteran patients. The advancements Ms. Allen is making in student development demonstrate the innovative spirt of VA Social Workers."
Currently, Allen serves as a caregiver support coordinator for the Baltimore VA Medical Center. In this role, she provides program coordination, direct supportive counseling services and ongoing assessments for caregivers and Veterans and has recently begun to expand community collaborations for the caregiver program. A doctoral candidate in interdisciplinary Gerontology at the University of Maryland School of Medicine, Allen, for the past three years, has developed and conducted military/veteran cultural competency and war-era health differences for the University of Maryland School of Social Work's Health and Aging track courses to better prepare the next generation of graduate-level social work students to serve America's Veterans.
"It's an honor to be selected, considering the level of experience of past recipients," said Allen, a Navy Veteran who expects to earn her PhD in 2019. "All of the work recognized was a result of outstanding leadership support and collaboration with amazing colleagues at the VA Maryland Health Care System. It's humbling to see the recognition of what we accomplished by working together."
Allen plans to focus on improving health care models for older adults and innovating and enhancing student training programs in health and aging. She also plans to conduct research projects aimed at improving care for older adults with chronic health conditions and implementing new, evidenced-based ideas for improving geriatric health settings, while using the unique VA health model to train social work students to be future leaders in aging and health.
For now, Allen is enjoying her spot as the state's top social worker, but she doesn't intend to rest on any laurels. "I'd like to use my experience and clinical practice to enhance policy and services for older Veterans," she said, noting that she hopes to raise cultural awareness regarding veterans in community health care settings.
The VA Maryland Health Care System (VAMHCS) provides a broad spectrum of medical, surgical, rehabilitative, mental health and outpatient care to veterans at two medical centers, one rehabilitation & extended care center and five outpatient clinics located throughout the state. More than 52,000 veterans from various generations receive care from VAMHCS annually. Nationally recognized for its state-of-the-art technology and quality patient care, VAMHCS is proud of its reputation as a leader in veterans' health care, research and education. It costs nothing for Veterans to enroll for health care with the VA Maryland Health Care System and it could be one of the more important things a Veteran can do. For information about VA health care eligibility and enrollment or how to apply for a VA medical care hardship to avoid future copayments for VA health care, interested Veterans are urged to call the Enrollment Center for the VA Maryland Health Care System, Monday through Friday, from 8 a.m. to 4:30 p.m. at 1-800-463-6295, ext. 7324 or visit http://www.maryland.va.gov.