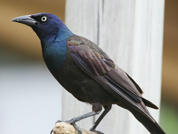 (PRWEB) April 20, 2017
Bird control company Bird-X, Inc. has released their latest blog post today, discussing how to deter one of summer's most invasive birds, grackles. With spring in full bloom come pest birds ready to take advantage of budding gardens and open pools. It is important for consumers to be proactive instead of reactive when it comes to bird control. Whether pest birds have caused problems at residential properties or businesses, now is the time to start enacting preventative measures to keep pest birds away this season and into the summer.
Grackles prefer agricultural fields and are more of a threat to crops than crows. As much as they like open spaces, they also live in urban areas, making them abundant nearly everywhere.
Bird-X, Inc. has spent over 50 years protecting public areas from over 60 bird-spread transmissible diseases. The leading international brand of humane bird control solutions, this Chicago-based company manufactures a complete line of unique bird control products, protecting the health of humans, wildlife, and the environment by deterring birds from unwanted areas without harming them.
For information on any of Bird-X's humane pest control products, please call customer service at (800) 662-5021.