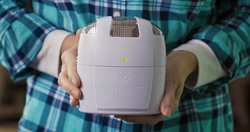 Seattle, Washington (PRWEB) April 24, 2017
Sean Fay is the undisputed king of the infomercial. With clients as ubiquitous as T-Fal OptiGrill, Oxiclean, Space Bag, Sonicare Toothbrush, Juiceman Juicer, and the George Foreman Grill (which sold more than 100 million units worldwide), he has created more household names than perhaps any other marketer in the last 25 years.
Now, due to changes in the broadcast media landscape, the once ever-present infomercial has gone the way of the dodo, replaced by a fractured media paradigm of multiple screens and very short attention spans.
Thanks in part to crowdfunding sites like Kickstarter, viral video has become the new model for successful product launches, with its own language and set of rules. But it's the direct response aspect of these digital launches that has spun Fay and his company, Envision Response, into a new direction. Watch our video here: https://www.facebook.com/theberrybreeze/videos/826597144154830/
Combining the power of online video and social media with his decades of perfecting the art of influence in direct response ads, Fay has set his sights on a new product that he believes could be the next big success story - Fridge Fresh by BerryBreeze. The Fridge Fresh unit is a simple device you keep in your refrigerator that prevents food from spoiling by releasing all natural ozone which delays the growth of bacteria and mold, extending the life of fruits and vegetables (and other foods) up to 3 times longer.
BerryBreeze has a passion to prove that eating nutritious fruits and vegetables is the simplest change people can make to dramatically improve their health. The major problem is, fresh foods tend to spoil too quickly. Spoiled food results in the loss of $176 billion dollars annually. This affects families where it often hurts the most - their grocery bill. In fact, the average family throws away $1,500 of food per year.
Fay and his team have constructed a humorous, yet highly informative ad focused on a busy mom just trying to feed her family fresh food. The persuasive ad seeks to find common ground with moms (and parents in general) throughout the country by speaking to issues that they can all relate to in a humorous way.
The campaign launched on April 10th, 2017. You can find more information and watch the full video ad at http://www.fridgefresh.com or on Facebook at https://www.facebook.com/theberrybreeze/videos/826597144154830.
Envision Response is a performance-based brand marketing and creative agency at the nexus of digital marketing and direct response. Based in Seattle, Washington with clients across the nation, Envision Response is made up of a dedicated team of creative minds and strategists dedicated to amplifying your brand through proven marketing techniques and imaginative storytelling.
Contact: For media inquiries and/or interview arrangements, please contact Tarah Stuht at (425) 577-0503 or email at tarah@envisionresponse.com.
*Information/Data citied within this document was sourced from the NRDC, April 20th, 2016.*
https://www.nrdc.org/media/2016/160420