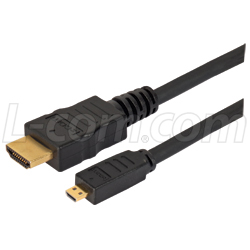 "Our new micro-HDMI to HDMI cables make it easy to connect a mobile device or tablet to an HDMI display, digital video sign or peripheral device," said Brian Gates, Product Manager
NORTH ANDOVER, Mass. (PRWEB) April 27, 2017
L-com Global Connectivity, a preferred manufacturer of wired and wireless connectivity products, announced today that it has launched a new series of micro-HDMI cable assemblies that are ideal for mobile devices, diagnostic tools, gaming, computer peripheral devices, medical and military applications.
L-com's new micro-HDMI cables have a micro-HDMI male connector on one end and a standard HDMI male connector on the other end of the assembly. They feature a 360-degree shield termination, HDMI Ethernet channel, audio return channel, 3D over HDMI and 4K support.
"Our new micro-HDMI to HDMI cables make it easy to connect a mobile device or tablet to an HDMI display, digital video sign or peripheral device. In addition to ease of use, our customers can rest assured that these cables are built for quality, durability and performance," said Brian Gates, Product Manager.
These new cables feature five individually shielded 32 AWG twisted pairs with a drain wire, four 32 AWG conductors and a foil and braid shield. The assemblies are available off the shelf in .5, 1, 2 and 3 meter lengths.
For more information about this release, please contact:
Peter McNeil
L-com Global Connectivity
17792 Fitch
Irvine, CA
978-682-6936 x1174
About L-com Global Connectivity:
L-com Global Connectivity, a leading manufacturer of wired and wireless connectivity products, offers a wide range of solutions and unrivaled customer service for the electronics and data communications industries. The company's product portfolio includes cable assemblies, connectors, adapters, antennas, enclosures, surge protectors and more. L-com is headquartered in North Andover, Mass., is ISO 9001: 2008 certified and many of its products are UL® recognized. L-com is an Infinite Electronics company.