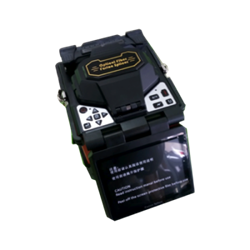 We believe in doing it right the first time, and this feature-rich and affordable splicer does just that, saving significant time and effort.
Toronto, Canada (PRWEB) April 20, 2017
GAOTek, a leading North American supplier of advanced T & M and engineering equipment, proudly presents its optical fiber fusion splicer with 400x magnification. This advanced product has two patented components, namely 3 in 1 cutting fixture for rubber-insulated wire, and a multi-functional 1+N optical fiber fixture. The portable and compact splicer is highly cost effective and an important addition to the company's robust selection of fiber optic products.
This optical fiber fusion splicer not only boasts of high magnification, but also supports simultaneous X and Y views, allowing the user to position, align and check fibers clearly. The splicer is extremely user-friendly, and can be conveniently used by even inexperienced technicians. It supports both, auto and manual splicing modes, and has been designed to achieve the best possible results in any field condition. The splicer can effectively perform burn-off, which is key in a splicing process, since even the tiniest of impurities can hinder optical signal transmission. Furthermore, this optical fiber fusion splicer is wind and dust resistant, and comes in a weather proof case. It features a 5 inch high resolution color LCD display, and a Lithium battery that can endure up to 180 times of continuous splice and heat. The splicer makes the splicing process quick, accurate and easy, with average splice time of 10 seconds, average tube-heat time of 30 seconds, and a splicing loss of just .01dB (MMF).
"Quality is at the heart of every device we manufacture and supply. We believe in doing it right the first time, and this feature-rich and affordable splicer does just that, saving significant time and effort. 400x magnification, and X and Y views that the splicer supports are instrumental in achieving the best results," said Dr. Frank Gao, CEO GAO Group.
The product is available on http://www.GAOTek.com, as well as on some leading e-commerce marketplaces.
GAOTek Inc. now offers one of the world's largest selections of advanced fiber optic Instruments such as fiber optic splicers, transceivers, telecommunication testers, electronic measurement instruments, video surveillance, general test and measurement equipment, civil engineering, mechanical engineering, chemical engineering and other engineering products that satisfy the needs of global technical professionals.
GAOTek serves customers from more than 50 countries. GAOTek is known for the high quality and the good value of its products. Its strong technical support team provides excellent support for its products.
GAOTek Inc. is a member of GAO Group of Companies, headquartered in Toronto, Canada with a strong global presence. The Group consists of GAO RFID Inc. (http://www.GAORFID.com), GAOTek Inc., and GAO Research Inc. (http://www.GAOResearch.com), all being leaders in their respective markets.