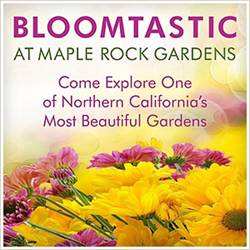 …one of the finest private gardens in Northern California.
Newcastle, California (PRWEB) April 24, 2017
The Greater Sacramento Area Bloomtastic gardening celebration will be held Saturday, May 13, from 9 a.m. to 3 p.m. at Maple Rock Gardens, one of the finest private gardens in Northern California. Guests can tour through the many themed garden rooms, visit the Garden Railroad, listen to live music, and enjoy farm fresh food and beverages. Bloomtastic is hosted by High-Hand Nursery out of Loomis, a local nursery and greenhouse offering high-quality plants and gardening services.
Maple Rock Gardens is located at 100 Clark Tunnel Road in Newcastle. Tickets are $10 for adults, available online at Highhand.com or directly from High-Hand Nursery, 3750 Taylor Road in Loomis. Children 12 and under are free.
Maple Rock Gardens is a 30-acre estate garden with numerous attractions for both avid gardeners and the general public. The garden is set within almost four acres of farmland and is home to one of the largest garden railroads in the state. Private tours are offered during certain months of the year, taking guests through the themed garden rooms—from Japanese style settings to formal English gardens. Guests will find unique plants like peonies, ferns, dogwoods, iris, and the garden's namesake, the Japanese Maple. Gorgeous water features and other garden treasures make Maple Rock Gardens a memorable experience.
_________________________________________
About High-Hand Nursery and High-Hand Café
Maple Rock Gardens is owned and operated by High-Hand Nursery in Loomis. High-Hand offers gardeners in the Greater Sacramento Area a diverse array of high-quality plants, from everyday trees, shrubs, and perennials from top growers to specialty items like succulents, topiaries, hanging baskets, and much more.
In addition to plants, the nursery offers an extensive collection of unique garden accessories and artwork—pottery, sculptures, benches, tables, fountains, and other treasures. High-Hand Nursery has a full crew of knowledgeable sales staff to assist customers. Other services include landscape consultation, design services, and aquatic garden design, consultation, and installation. High-Hand Nursery is located at 3750 Taylor Road in Loomis. The nursery is open seven days a week, from 9-5 Monday through Saturday and 9-4 on Sunday.
The High-Hand Café, located within the nursery, also sources much of its produce directly from the Maple Rock Gardens farm, offering fresh seasonal menu items with locally sourced ingredients. An array of vegetables, berries, citrus, and fruits are harvested directly from the farms several times a week for a unique farm to fork experience. The café is open Tuesday through Friday from 11 a.m. to 3 p.m., and Saturday through Sunday from 9 a.m. to 3 p.m.