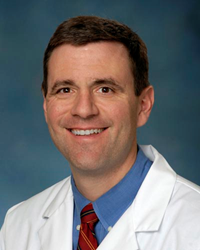 The fundamental goal of my research effort is to improve the survival outcomes for patients with esophageal cancer," said Dr. James M. Donahue.
BALTIMORE, Md. (PRWEB) April 20, 2017
The esophagus, a 10-inch long muscular tube, connects the mouth to the stomach, its sole function to carry foods, liquids, and saliva to the stomach where digestion begins. We eat, drink, and swallow without thinking much about the esophagus until a problem arises, such as difficulty swallowing and food getting stuck. Esophageal cancer, currently the 7th leading cause of death for men in the U.S., is increasing in frequency, a spike especially dramatic among veterans. Reports of esophageal cancer among Veterans indicate a 40 percent hike within the VA health care system from the periods of 1995-1999 and 2000-2005. Esophageal cancer includes two types: squamous cell carcinoma and adenocarcinoma. Both types are more common in men than in women. Squamous cell carcinomas are primarily seen in patients with a history of excessive alcohol use and smoking. Risk factors for adenocarcinomas, which are now the more common type in this country, include a diet poor in vegetables and fruit, obesity, and acid reflux or GERD. Some symptoms such as back pain, heart burn, weight loss, a persistent cough, hoarseness, weakness and tend not to be recognized as esophageal-related issues.
"The fundamental goal of my research effort is to improve the survival outcomes for patients with esophageal cancer," said Dr. James M. Donahue, a surgeon and researcher at the VA Maryland Health Care System and assistant professor at the University of Maryland School of Medicine who earned a VA Career Development Award in 2012. Now, Donahue has been selected for a VA Merit Review Award to advance his research of esophageal cancer, an award to supports his effort to define the roles and mechanisms of particular molecules called microRNAs that contribute to cancer growth and chemotherapy resistance. The VA Merit Award for $650,000 over four years—from 2017 to 2020—supports Donahue's desire to improve the survival rates of patients struggling with esophageal cancer with interventions before and after surgery.
"It's exciting that VA and the VA Maryland Health Care System can support Dr. Donahue's continued studies on esophageal cancer, also the focus of his clinical work as a thoracic surgeon," said Dr. Thomas J. Hornyak, associate chief of staff for Research & Development at the VA Maryland Health Care System, which conducts more than $25 million in research annually. "Clinician-scientists like Dr. Donahue have a unique perspective on disease, using insights from the patient care they provide to drive questions they can answer in their laboratories," he added. "Dr. Donahue's cutting-edge studies on microRNAs in esophageal cancer fit well within the VA's research portfolio and ultimately should advance treatments that we can offer Veterans with this disease."
For Donahue, a Navy Veteran who was deployed with a forward surgical team to Afghanistan in 2013, the inspiration to understand cancer at a cellular level came to him as a child after breast cancer claimed his mother at a young age. "The support from the VA has allowed me to gain the experience with the necessary cell and molecular biology techniques required to complete the proposed experiments," said Donahue, who earned his doctorate in medicine cum laude at Harvard Medical School in 1998.
By understanding the mechanism that causes cancer to grow at a cellular level, Donahue hopes that a successful completion of this project will significantly contribute to the understanding of the biology of esophageal cancer and also allow for the development of therapies specifically targeted for the treatment of esophageal cancer.
"As a practicing thoracic surgeon, the clinical importance of these studies are made obvious to me every day."
###
The VA Maryland Health Care System (VAMHCS) provides a broad spectrum of medical, surgical, rehabilitative, mental health and outpatient care to veterans at two medical centers, one rehabilitation & extended care center and five outpatient clinics located throughout the state. More than 52,000 veterans from various generations receive care from VAMHCS annually. Nationally recognized for its state-of-the-art technology and quality patient care, VAMHCS is proud of its reputation as a leader in veterans' health care, research and education. It costs nothing for Veterans to enroll for health care with the VA Maryland Health Care System and it could be one of the more important things a Veteran can do. For information about VA health care eligibility and enrollment or how to apply for a VA medical care hardship to avoid future copayments for VA health care, interested Veterans are urged to call the Enrollment Center for the VA Maryland Health Care System, Monday through Friday, from 8 a.m. to 4:30 p.m. at 1-800-463-6295, ext. 7324 or visit http://www.maryland.va.gov.