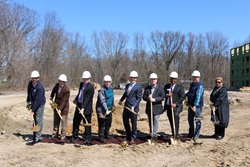 Michigan City, IN (PRWEB) April 21, 2017
Construction is underway for Silver Birch of Michigan City, a new affordable assisted lifestyle community that Gardant will manage.
The community, which will be located at 4400 East Michigan Boulevard in Michigan City, Indiana, is expected to open in early 2018. It will serve older adults of all incomes, including those on Medicaid, who need some help to maintain their independence.
The project has been in the works for two and a half years, but on April 12, the Michigan City Common Council and representatives from the Michigan City Economic Development Corporation, Vermilion Development and Gardant Management Solutions met for the groundbreaking ceremony.
Darrin Jolas, Director of Leasing and Development at Vermilion Development, and Mayor Ron Meer had nothing but great things to say about the project.
"We're grateful for our partnership with the mayor and this great city," Darrin said.
Mayor Meer expressed, "I wish everyone success in this new endeavor in Michigan City. Thank you to everyone who has worked so hard to make this possible."
Silver Birch will be a four-story building, housing 119 studio and one-bedroom apartments. Each of the private apartments will feature a kitchenette, spacious bathroom with shower and grab bars, individually-controlled heating and air conditioning units, and an emergency alert system.
In addition, Silver Birch at Michigan City will have community areas, including a dining room, fitness area and activity and craft rooms.
Certified nursing assistants, working under the direction of a licensed nurse, will be on-duty 24 hours a day, seven days a week.
Individuals interested in having their names added to the interest list to obtain further information about Silver Birch at Michigan City can call 1-877-882-1495.