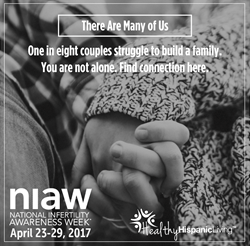 There's too much silence in the Hispanic community around infertility
Rancho Santa Margarita, CA (PRWEB) April 24, 2017
Healthy Hispanic Living (HHL), the first preventive care online educational platform for U.S. Hispanics, today launched a new microsite dedicated to providing practical information and emotional connection for women and men struggling with infertility.
The launch is timed with the start of National Infertility Awareness Week® (NIAW), April 23-29. NIAW is a movement founded in 1989 by Resolve, the National Infertility Association.
Healthy Hispanic Living's new site fits well with this year's theme — "Listen Up!" The site includes personal stories of couples struggling to build their families, and a new online community for people to connect directly with each other to seek advice or support, and to learn from each other's experiences. Visit the Facebook community here.
One in eight couples struggle to build a family, according to Resolve.
"As a Latina, the inability to get pregnant is the most overwhelming sense of failure," said Annette Prieto Llopis, VP Client Relations, Center for Hispanic Leadership. Her personal story is featured on the HHL Infertility site. "The perception is that something is wrong with you as a woman. In a culture that prides itself on the importance of family, I felt like I was underperforming."
Llopis shares the story of her 15-year struggle with infertility, and with the difficulty in facing her Cuban immigrant mother's expectations for her to become a mother. Additional stories touch on a variety of infertility topics:

finding a gestational surrogate in India;
coping with secondary infertility;
a moment-in-time of learning a last try has failed.
According to this 2009 Harvard Mental Health Letter: In a study of 200 couples, half of the women said that infertility was the most upsetting experience of their lives; while another study of 488 American women concluded that women with infertility felt as anxious or depressed as those diagnosed with cancer, hypertension, or recovering from a heart attack.
Infertility is more common for Hispanic women than for non-Hispanic white women (according to this 2006 study in Fertility & Sterility, which analyzed National Survey of Family Growth data). Yet Hispanic women receive medical assistance in getting pregnant at nearly half the rate of white women (according to this 2015 study in Health Psychology). The authors said that accounting for income and health insurance disparities did not fully explain these differences.
"There's too much silence in the Hispanic community around infertility," said Llopis. "It's hard to talk about it when you're in the middle of it—but that's when you need other people the most. We just want to create a safe place where people can find the encouragement and support they need at the moment they need it."
About Healthy Hispanic Living
As the first preventive care online educational platform targeted to U.S. Hispanics, HHL aims to guide
Hispanics to live healthier lives and to ensure preventive care engagement, accountability and self-advocacy by
providing solutions and changing the conversation about health from illness to wellness. For more information,
visit http://www.healthyhispanicliving.com.