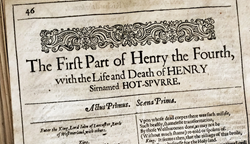 "It's hard to believe...The idea that a rare book dealer like Dave would just happen to live in our city and choose to do such an extraordinary thing for our community and our company . . . it just boggles the mind!"
Atlanta, Georgia (PRWEB) April 25, 2017
The Atlanta Shakespeare Company and Peachstate Historical Consulting, Inc. are partnering to host an online auction of more than 100 individual leaves drawn from a single (imperfect) 1632 Shakespeare Second Folio, which will provide up to a year's worth of school and community tours to Georgia's rural counties.
Peachstate Historical Consulting, based in Roswell, GA and founded by David Frohman, acquired the Second Folio in 2015 from a private collector in California. Experts estimate that there are no more than 200 surviving copies of the 1632 printing of Shakespeare's works, many in poor or incomplete condition. Unfortunately, the Second Folio which Frohman acquired had many imperfections. Frohman could have restored it and resold it to another private collector. Instead, he decided to do something different.
The Atlanta Shakespeare Company (ASC) produces more plays by Shakespeare than any other company in America, sometimes as many as twelve titles in a season that runs 51 weeks each and every year. In addition, ASC is the only theater company in the Southeastern United States providing live classics-based productions throughout the entire academic school year. A key element of their education programming is touring original adaptations of Romeo and Juliet and Julius Caesar to eighteen rural counties in Georgia. In just two years, these tours have brought live Shakespeare performances to almost 15,000 students in communities that, with few exceptions, have no access to arts education programming of any kind. While supported in part by the National Endowment for the Arts (NEA), these curriculum-based arts programs are a drain on ASC's already strained budget. Without increased public funding, ASC was considering scaling down or even eliminating its school offerings for 2017.
Enter David Frohman. With the proposed elimination of the NEA and Georgia trailing 48 states in per capita arts spending, Frohman offered to help raise funds for ASC's education programs via an unusual auction of his Shakespeare's Second Folio. From his (imperfect) 1632 Shakespeare Second Folio, Frohman created "The Shakespeare 200", a Limited Edition of 200 folio leaves, featuring 200 of Shakespeare's most famous quotes. Artfully encasing each leaf into a removable acrylic frame, Frohman hoped to make this historical treasure accessible to as many people as possible. Instead of one damaged Second Folio, Frohman now had 200 perfectly preserved pages of a cultural legacy.
ASC's Artistic Director Jeff Watkins was immediately excited, "It's hard to believe. The Atlanta Shakespeare Company is one of only two professional Shakespeare companies in America that work almost exclusively from Shakespeare's Folio text. The idea that a rare book dealer like Dave would just happen to live in our city and choose to do such an extraordinary thing for our community and our company . . . it just boggles the mind!"
The "Shakespeare 200" framed Second Folio leaves represents the first Shakespearean limited edition to specifically offer Shakespeare's greatest quotations as printed in the 17th-century. The edition features 200 of the greatest quotes, ranked and numbered according to familiarity, with accompanying certificates of authenticity. Says, Frohman, "I could have sold one imperfect Second Folio to a collector who would have kept it hidden-away in a box while waiting to trade it for a better copy. Or, I could take a unique approach that will allow libraries, theatre companies, and collectors who can't afford a Folio the chance to acquire a single quotation leaf."
ASC's extensive history as Atlanta's home for Shakespeare is internationally-known. Watkins is a past-President of the international Shakespeare Theater Association and in August 1995, ASC was the first American company to perform on the stage of the newly-built Globe in London. Frohman, already familiar with ASC's programs, recognized the value of partnering with ASC for his Shakespeare 200 limited edition auction. The partnership gives him instant access to ASC's dedicated Shakespeare annual audience of over 50,000. It also gives ASC access to arts education funding in a time when public funding priorities are tending to military over cultural institutions. In Frohman's words, "it's a win-win-win."
The online auction will run April 28 – May 7 on Ebay, with 50% of the net proceeds going directly to ASC. Buyers in the Atlanta-area can attend a live auction gala on May 17, 2017 at the Shakespeare Tavern Playhouse. The live auction will offer attendees the chance to hold the individual leaves and enjoy a night of Shakespeare-themed entertainment.
Interested buyers can view the entire collection at the auction website: http://www.Shakespeare200.com
The Atlanta Shakespeare Company is one of America's most prolific theater companies, operating year-round while implementing the largest core-curriculum based Arts in Education Program in the southeast, annually reaching more than 30,000 K-12 students in sixty Georgia counties and five neighboring states. ASC is a leading member of the Original Practice movement in modern Shakespeare production and holds the service marks for Shakespeare Tavern®, Original Practice Playhouse® and An Original Practice Production®.
David Frohman is Founder and President of Peachstate Historical Consulting, Inc., the industry leader for artifacts and memorabilia originating from the American space program. He consults for national museums, universities, libraries, auction houses, NASA, and the United States Congress. He has evaluated, catalogued, and appraised more artifacts flown in space or used on the Moon than any other private individual.