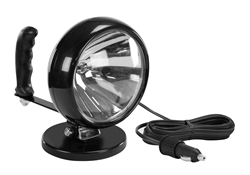 This hand held spotlight represents the ultimate versatility in hand held use and semi-permanent mounting
Kemp, TX (PRWEB) April 21, 2017
Time and time again Larson Electronics LLC line of industrial grade lighting products have been proven to be a popular choice among set designers. In accordance with this reoccurring theme, production crews on the set of "The Last Ship" have decided to use Larsons' HML-4 12-Volt, magnetic hand held spotlight as well.
The HML-4 hand held magnetic base spotlight features a solid polypropylene handle connected to a tension hinge base with 140° of tilt by a 7-inch, heavy gauge steel bracket. All of the fasteners on this spotlight are galvanized and secured with red Loctite. Unlike post mounted lights that require drilling into a vehicles frame, these hand held spotlights can be attached anywhere there is a ferrous metal surface by a magnetic base with 100 pounds of gripping power. This magnetic base creates enough power to hold the spotlight to the vehicle while in motion. Each of these spotlights has been field tested for vibration resistance on 50 caliber guns by multiple military branches, only furthering their durability.
"This hand held spotlight represents the ultimate versatility in hand held use and semi-permanent mounting," said Rob Bresnahan, CEO of Larson Electronics LLC."This factor combined with the durable build is exactly why I think our products have been chosen numerous times for use on the set of movies like The Hulk, Man of Steel, The Avengers and many others."
About Larson Electronics LLC: Larson Electronics LLC is a manufacturer of industrial lighting equipment and accessories. The company offers an extensive catalog of industry-grade lighting and power distribution products for the following sectors: manufacturing, construction, food processing, oil and gas, military, marine and automobile. Customers can benefit from the company's hands-on, customized approach to lighting solutions. Larson Electronics provides expedited service for quotes, customer support and shipments.