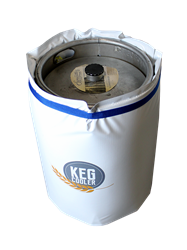 Equipment lasts longer, projects stay on track, and fluids flow smoothly with Powerblanket.
Salt Lake City, UT (PRWEB) April 21, 2017
Enter to win a Portable Keg Cooler at our booth during the ISA Annual Convention.
The leader in total temperature control, Powerblanket designs and manufactures high technology smart controls and monitoring devices, heating blankets, and chilling products that solve a wide range of temperature problems. Industries such as oil and gas, construction, industrial, mining, and railroad rely on innovative Powerblanket® technologies to control the temperature variable. Choose from customized freeze protection to solutions for process heating and process cooling. With Powerblanket equipment lasts longer, projects stay on track, and fluids flow smoothly. Use Powerblanket year round to prevent costly setbacks, increase productivity and achieve total temperature control.
Here are some of the products Powerblanket will show off at this show:
Clear the Path: Summerstep Snow Melting Mats
Slips, trips, and falls will decrease dramatically when the path is clear. Powerblanket offers a new method for clearing the path that does not use chemicals or salt, or require back-breaking shoveling. Summerstep™ industrial snow melting mats use radiant heat technology to melt snow and ice on walkways, stairs and doorways. Not only does Summerstep melt away the existing ice and snow, but as the storm continues, the path will stay clear as accumulating snow will instantly melt away. Summerstep snow melting mats can be linked together to match the length you need to ensure safe travels.
Take Control: Beacon Remote Temperature Monitor and Controller
Whether it is monitoring alone, control and monitoring, or automation and monitoring, Beacon remote temperature monitor and controllers are here to help businesses have a constant link to temperature sensitive materials. Whatever the industry, whatever the application, Beacon can help monitor and control operations with ease and precision. Eliminate the guesswork and risk associated with technological assets by using a Beacon Smart Temperature Controller to keep systems operating safely and efficiently.
Portable Keg Cooler
Needing a more reliable means of cooling your beer in the keg? Consider using the Powerblanket® ICE portable keg cooler. Even on the hottest summer days, the Powerblanket Ice insulated portable keg cooler can keep a cold keg of beer below 10°C/50°F for up to twelve hours without ever having to change the ice packs.
Drum Heaters
The 55 gallon barrel and drum heater from Powerblanket offers a state-of-the-art heating system that is far superior to band heaters, which localize the heat to only one spot. Encases the entire drum in a heating blanket, insulating the entire drum and distributing the heat across the entire surface. Powerblanket drum heaters only require 800 watts to power, are water resistant, and can be used on poly and steel drums. Our Pro Series drum heaters come equipped with a digital thermostatic controller. This is the safest and most efficient 55 gallon drum heater on the market, excellent for industrial process heating!
That's Not All
Powerblanket designs and manufactures various other products to help businesses improve efficiency and save time and money:
Powerblanket Concrete Curing Blankets provide a manageable way to cure concrete in the cold weather months, save time and money, and come in various lengths and sizes.
Powerblanket Ground Thawing Blankets have a higher power density and hotter temperature than the concrete curing blankets. The higher power is ideal for ground thawing applications and curing epoxy or resins.
Powerblanket has the best gas cylinder heaters on the market. These heating blankets will maintain pressure and efficiency on just about any size gas cylinder. When temperatures get too low, the liquid will not flow consistently or effectively, and heat can be completely lost.
Powerblanket Intermediate Bulk Container Heaters offer consistent, and regulated heat distribution at a fraction of the cost of other IBC heater alternatives. The advanced insulation of these bulk material warmers prevents heat loss and will protect materials down to -40°F/-40°C. The heating element within the heater allows for more surface area contact, conserving energy and reducing hot and cold spots.
Powerblanket Ice® is portable cooling equipment that will keep materials safe from heat including the Icepack Blanket, the Circulation Blanket and Cooler, and the Circulation Blanket and Chiller. This product line features portable, insulated, and efficient industrial process cooling equipment.