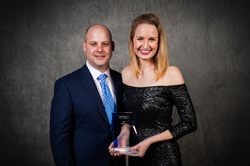 CHICAGO (PRWEB) April 22, 2017
The leaders of two exceptionally successful RE/MAX franchises in the Chicago area recently were honored by RE/MAX Northern Illinois with its 2016 "Above the Crowd!" Award presented during its 40th Annual Awards Ceremony at Navy Pier.
The winners were Chad and Sarah Gilbert, owners of RE/MAX Suburban, which has offices in Arlington Heights, Buffalo Grove, Glen Ellyn, Libertyville, Mt. Prospect, Schaumburg and Wheaton, Ill., and Angie Palazzolo, broker/owner of RE/MAX Destiny, Elk Grove Village, Ill.
The "Above the Crowd!" Award recognizes individuals for their commitment to the RE/MAX brand within their office, the RE/MAX network and their community, not only during a single year but throughout their affiliation with RE/MAX.
For the Gilberts, 2016 was their first full year in the RE/MAX network after acquiring RE/MAX Suburban in the second half of 2015. At that time, RE/MAX Suburban was already one of the largest residential brokerage organizations in the Chicago area with six offices and nearly 200 brokers. The Gilberts brought new energy to the organization, making 2016 a year of growth by adding an established RE/MAX office in Buffalo Grove to the RE/MAX Suburban group, expanding the number of affiliated brokers to 230 and generating more than $1.2 billion in total sales volume, making it the 15th largest RE/MAX company in the nation and the largest in Illinois.
At the same time, the Gilberts continued the RE/MAX Suburban tradition of support for Children's Miracle Network Hospitals, donating $41,200 last year, the most of any RE/MAX company in northern Illinois.
"We've tried to build on the record of outstanding service that has made the RE/MAX network and RE/MAX Suburban leaders in our industry. Being honored this way makes Sarah and I feel as if we're on the right track, and it's also a great incentive to reach new levels of achievement in the years ahead," Chad Gilbert said.
Palazzolo, a resident of Addison, Ill., has been affiliated with RE/MAX since 1997 when she first became a real estate agent. She joined RE/MAX Destiny in 2005, became a part owner of the firm later that year and bought out her partner and became managing broker in 2007. RE/MAX Destiny had just seven brokers at that time, but under her guidance its sales force has grown to 37 today.
In presenting the award to Palazzolo, RE/MAX pointed out her energetic efforts to build the productivity of every broker in her office through a combination of professional training and motivational techniques.
"In this business, staying motivated is vital. We try to help our brokers do that in various ways, whether that involves bringing in a motivational speaker or dividing the office into teams and holding a contest where top performers can win cash, a special outing or prizes like tablet computers," said Palazzolo.
She also plays an active role in her community, raising funds for several different charities, sponsoring a $1,000 annual college scholarship for Addison Trail High School, and coming up with other ideas to help people. This year, for example, Palazzolo created a special program during Lent in which she and others in her office did an act of kindness every day for 40 days. Among those acts: leaving gift cards for needy families, donating to charities and going to local laundromats and offering people there the money needed to do their laundry.
"My approach is that I try to help wherever I can whenever I can," said Palazzolo.
RE/MAX agents consistently rank among the most productive in the industry. In 2015, RE/MAX Northern Illinois agents averaged 18 transaction sides. RE/MAX has been the leader in the northern Illinois real estate market since 1989 and is continually growing. The RE/MAX Northern Illinois network, with headquarters in Elgin, Ill., consists of more than 2,250 sales associates and 103 independently owned and operated RE/MAX offices that provide a full range of residential and commercial brokerage services. Its mobile real estate app, available for download at http://www.illinoisproperty.com, provides comprehensive information about residential and commercial property for sale in the region. The northern Illinois network is part of RE/MAX, a global real estate organization with 110,000+ sales associates in 100+ nations.
EDITOR'S NOTE: RE/MAX® is a registered trademark. Please spell in all caps. Thank you. This release is posted at blog.illinoisproperty.com.