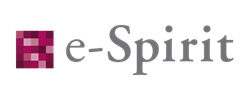 Boston, MA (PRWEB) April 21, 2017
e-Spirit Inc., maker of the FirstSpirit Content Experience Hub, today announced that it has received certification for Salesforce Commerce Cloud's Content Integration API. Salesforce Commerce Cloud enables brands to provide personalized experiences for shoppers that span web, mobile, social and in-store. And now, as part of the world's #1 CRM platform – Salesforce – brands can deliver completely unified experiences for customers that extend beyond commerce to include marketing, customer service and more.
The FirstSpirit content experience hub has a proven history of enabling customers to create content-driven customer experiences for their online stores and other digital channels. The new integration is tailor made for decoupled content management systems such as FirstSpirit and will give customers the flexibility to manage content and experiences without the need for developer assistance.
The Salesforce Partner Program is the industry's largest "born in the cloud" partner program, empowering consultants, ISVs, VARs, agencies and other partners to drive customer success using the Salesforce Customer Success Platform. Through a combination of business, technology and marketing benefits, and the world's largest business app marketplace – the AppExchange – the Salesforce Partner Program helps partners of all sizes and industries build successful businesses that leverage the Salesforce platform.
"As a central digital content experience hub, we believe that the commerce channel is mission critical and that marketing content plays an integrated and strategic role in helping retail organizations meet customer experience demands head on," said Udo Straesser, CRO for e-Spirit and responsible for the global partner management. "With FirstSpirit, retailers who rely on Salesforce Commerce Cloud get a ground-breaking extension that allows them to easily adapt their content marketing strategies to meet changing consumer behavior, and cultivate increased customer loyalty and sales. We are delighted to be a certified Salesforce partner."
An architectural and business model perfect fit
Salesforce Commerce Cloud's Content Integration API is a good fit for decoupled content management systems such as FirstSpirit which by nature offers retailers greater flexibility and can meet evolving channel and customer experience demands with agility. FirstSpirit serves as the central content hub that connects the commerce engine, content, processes, tools and channels from which real-time, personalized digital experiences are born. Improved communication between the two systems will give users complete freedom and control to create and manage omnichannel content without the layout limitations previously experienced, and without developer assistance.
FirstSpirit extends Salesforce Commerce Cloud's rich online store functionality by providing content-rich, personalized consumer experiences in any language to support global content strategies. Combined benefits include:

Use one simple and intuitive interface to create and manage all digital content -- no coding required.
Create great experiences at every touchpoint regardless of channel or device being used for true engagement.
Translate content giving global consumers content-rich experiences in their local language.
Leverage cutting-edge features such as A/B testing and personalization
Eliminate the complexities associated with multi-brand and multi-channel content distribution.
Deliver omnichannel content to the right visitor at the right time with personalization and real-time targeting.
Gain insights into visitor behavior using real-time analytics and enable better decision-making.
House content in a central repository where it can be located and re-used across multiple channels such as mobile, apps, digital signage and so on with ease.
Use Salesforce Commerce Cloud for the glass, and FirstSpirit to manage your structured content for greater flexibility.
Learn more about the e-Spirit and Salesforce content and commerce difference.
Salesforce and Commerce Cloud are among the trademarks of Salesforce.com, inc.
Additional Resources

About e-Spirit
e-Spirit changes the way companies in every sector monetize their content. It is a leader in enabling companies to unlock the value of digital content and transform the way they communicate with customers and employees. FirstSpirit combines all systems, applications, data and content required for the design of engaging customer experiences to create a central digital content hub. It gives companies the required infrastructure for efficiently supplying increasingly large quantities of (personalized) content for increasing numbers of channels and touchpoints along the customer journey, allowing them to systematically reach customers worldwide.
With FirstSpirit, FirstSpirit Cloud and FirstSpirit CaaS, e-Spirit offers users diverse solutions for significantly accelerating the time-to-market of their communication for products and brands and rolling out digital marketing measures target group specific and in real time.
e-Spirit was founded in 1999, is part of the adesso Group and has offices in 16 locations in the US, Germany, Great Britain, the Netherlands, Switzerland and Austria. Customers include international brands and corporations such as L'Oréal Luxe, BASF, Bosch, Commerzbank, EDEKA, MAN, Media-Saturn and many others. http://www.e-Spirit.com
About Salesforce Commerce Cloud
The Salesforce Commerce Cloud empowers retailers to unify customer experiences across all points of commerce, including web, social, mobile and store. From shopping to fulfillment to customer service, the Commerce Cloud delivers 1-to-1 shopping experiences that consistently delight customers, driving increased engagement, loyalty and conversion. With embedded predictive intelligence and a robust partner ecosystem, the Commerce Cloud helps retailers deliver superior customer experiences for retailers, from planning to launch and beyond.
e-Spirit Inc.
One Cranberry Hill, Suite 100
Lexington, MA 02421, USA
+1 781 862 5511
us-info(at)e-Spirit.com
http://www.e-Spirit.com
Media contact for e-Spirit:
Anne Schneider
McKenzie Worldwide
+1 (503) 780-3471
annes(at)mckenzieworldwide.com