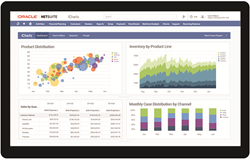 We're excited about the new iCharts for NetSuite SuiteApp, completely rebuilt and tailored for specific jobs and roles and ready in time to showcase at SuiteWorld17," - Seymour Duncker, CEO of iCharts.
Mountain View, CA (PRWEB) April 21, 2017
iCharts, a cloud business intelligence (BI) and analytics platform and maker of the 2016 NetSuite SuiteApp of the Year, today announced its Diamond sponsorship of SuiteWorld17, NetSuite's annual user conference for customers, partners, media and industry analysts, being held April 24-27 in Las Vegas, Nev. In its seventh year, SuiteWorld is the industry's leading cloud ERP conference with more than 6,000 expected attendees coming together to get inspired, network, celebrate cloud success, gain industry knowledge and share insights and best practices. iCharts is launching its 'Built for NetSuite' iCharts for NetSuite SuiteApp at the conference.
Built for NetSuite is a program for NetSuite SuiteCloud Developer Network (SDN) partners that provides them with information, resources and a method to verify that their applications and integrations, built using the NetSuite SuiteCloud Computing Platform, meet new NetSuite standards and best practices. The Built for NetSuite program is designed to give NetSuite customers additional confidence that SuiteApps have been built to meet these standards
"Self-service analytics, data democratization, and harnessing the never-ending data deluge to make better decisions: these all result from combining iCharts's embedded analytics and NetSuite solutions. We're excited about the new iCharts for NetSuite SuiteApp, completely rebuilt and tailored for specific jobs and roles and ready in time to showcase at SuiteWorld17," said Seymour Duncker, CEO of iCharts. "Furthermore, we're thrilled that it has gained Built for NetSuite status."
iCharts will Showcase Customer 'Fireside Chats' and a New Product at SuiteWorld17
iCharts is l aunching the all-new iCharts for NetSuite SuiteApp at SuiteWorld 2017. Available now, iCharts was redesigned from scratch and has several new features including new chart templates that are tailored for particular industries and roles including manufacturing, software as a service (SaaS), professional services and wholesale distribution. iCharts's mission is to give everyone the power of business intelligence (BI) and the tools to make data-driven decisions. With visual analytics that update automatically and embed right into your existing business tools, iCharts makes it easy to analyze data in a single source of truth. This new version is more responsive and features real-time pivot tables, mashups from multiple data sources, and more. A pivot table can quickly summarize information and highlight desired details.
iCharts is also hosting Customer Fireside Chats at its booth 101, as well as a breakout session titled "Preparing NetSuite Data and Processes for Reporting and Analytics" from 2:45 pm to 3:45 pm on Tuesday, April 25th. A panel of customers will offer guidance on how to best prepare NetSuite for analytics and BI. The panel discussion includes Bryan Bishop, Director of Global Supply Chain, Akustica, Jonathan Holley, Marketing Analyst at Bailey International, and Gary Cifatte, Chief Technology Officer of Candy.com. The group will discuss how to approach NetSuite data structures for visualization, as well as how to anticipate BI needs through the process of data discovery, validation, and KPI definitions. Attendees will learn how to plan a roll-out strategy and avoid common pitfalls.
About SuiteWorld17
SuiteWorld17 is the industry's leading Cloud ERP conference, being held at the Sands Expo & Convention Center in Las Vegas, Nev. on April 24-27. SuiteWorld17 will bring together NetSuite solution providers, independent software vendor (ISV) partners, industry thought leaders and representatives of the approximately 40,000 companies and subsidiaries from across the globe running their business on NetSuite's cloud-based business management suite. Attendees of SuiteWorld17 can fully explore the NetSuite ecosystem, network face-to-face, and help shape the next evolution of cloud computing services.
For registration and additional details, please visit http://www.netsuitesuiteworld.com. To join the SuiteWorld conversation on Twitter and Instagram, please use #SuiteWorld17.
About iCharts
Other iCharts's clients include Abacus, AdvancedMD, Bailey International, BlueTent, BrainPop, CableOrganizer.com, Cambridge Sound Management, Carval Investors, DocDoc, Extron, Frontline Education, IDC, Interstate Cargo, Fairlife, Infinisource, IDC, Medium, MindGym, National Resource Governance Institute, Old Castle, On Center Software, Street Furniture Australia, Ticket City, Uppa Baby, VIP Petcare, and Weller.
iCharts, which experienced 58% year to year growth, has more than 60 employees, and is headquartered in Mountain View, Calif. and has an office in Roseville, Calif. Last month the company announced bigger Google Cloud Platform support and a new version for software as a service (SaaS) providers. Dubbed "iCharts for SaaS," it combines BI layer and a data warehouse and is designed to quickly integrate with the SaaS ecosystems, like CRM, ERP and mobile online payment systems, just to name a few.
For more information visit booth 101 at SuiteWorld17, icharts.net or @iCharts on Twitter.
###
Contacts:
PR
Michelle McIntyre, MMC PR for iCharts, michelle(at)michellemcintyrecommunications(dot)com, 1-408-621-1686
MARKETING
Contacts: Rico Andrade, vice president, marketing, rico(dot)andrade(at)icharts(dot)net, 1-650-793-3537