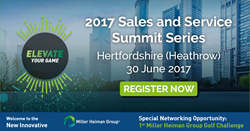 "The Elevate Summit was designed to help organizations sell more and service better, and we are excited about working closely with SAVO Group to position our customers for long-term success," said Richard Hilton, MD of EMEA for Miller Heiman Group
London- UK (PRWEB UK) 26 April 2017
Miller Heiman Group, the global leader in sales and service skills and methodology, today announced SAVO Group has been named a corporate sponsor for 2017 EMEA Sales and Service Summit, which will be held June 30. The Miller Heiman Group EMEA Sales and Service Summit is part of a series of customer-focused events that offers insights into the future of sales and service for the next decade through training, technology and talent.
"The Elevate Summit was designed to help organisations sell more and service better, and we are excited about working closely with SAVO Group to position our customers for long-term success," said Richard Hilton, Managing Director of EMEA for Miller Heiman Group. "Elevate features cutting-edge interactive sessions that will illuminate opportunities that are available within the landscape of sales and service."
The EMEA Sales and Service Summit will take place at The Grove in Hertfordshire, where attendees will hear from some of the world's most renowned sales and service experts on how to solve the most pressing challenges facing sales and service organizations today.
"SAVO is proud to be an official sponsor of Elevate," said Jason Keever, Vice President EMEA, SAVO Group. "We look forward to being a thought leading sponsor, helping sales professionals to sell more and service better through insights and technology," said Keever.
SAVO is the leading provider of enterprise-grade sales enablement solutions. SAVO bridges the gap between sales and marketing enabling organizations to leverage data to influence behaviors and drive more effective selling. SAVO does this by prescribing sellers what they need in the context of their deal. This means sellers are automatically served up the content, coaching and guidance they need to advance a sale based on a specific selling situation, whether it is deal stage, industry, persona, product or any other driver.
About Miller Heiman Group
Miller Heiman Group is one of the largest professional services providers in the world and is transforming workforce training into a revenue-driving business initiative based on innovation and technology. Many of the largest and most respected brands in the world work with Miller Heiman Group, which offers the broadest set of sales- and customer-service-based solutions in the market. With 63 offices globally, Miller Heiman Group has the breadth and depth to help every organization sell more and service better. To learn more, visit our website: https://www.millerheimangroup.co.uk/. Follow us on LinkedIn, Twitter, Facebook, YouTube and Google+.
About SAVO Group
SAVO is the leader in the sales enablement market having pioneered the sales enablement category since its founding in 1999. SAVO provides the most insightful, prescriptive and secure sales enablement platform for global use, delivering content to sellers within the context of their selling situation. With SAVO, companies achieve their revenue initiatives by aligning their sales, marketing and operations to work together with focus on the customer and greater results in the field. Learn about how more than one million sales and marketing professionals leverage SAVO today at http://www.savogroup.com