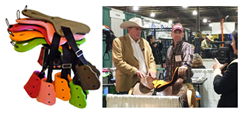 Shrewsbury, PA (PRWEB) April 21, 2017
In January of 2017, Sideline Products, participated in the World Horse Expo held in Timonium, MD. It was there that Brad, owner of Sideline Products, met Tom Seay and his production crew. The interview that took place that day, was aired on Tom's program, "Best of America by Horseback" on April 6, 2017.
Watch the interview by clicking the link and see the Saddle Sidekick in action: https://youtu.be/CghznE9fxPw.
The Saddle Sidekick is safe, reliable and affordable for every family. The seat fits over standard full sized saddles in seconds.
Sideline Products, the manufacturer of the Saddle Sidekicks, has been expanding operations and actively seeking new stocking distributors. Saddle Sidekicks are available for purchase at dealers across the United States and also online at http://www.saddlesidekicks.com.
Like and share us on Facebook at http://www.facebook.com/saddlesidekicks/.